Edible necklace ideas
Growing up, candy necklaces were the hot accessory at almost every birthday party I went to. Boy, girl, it didn't matter. Handfuls of these necklaces were handed out as party favors. Despite this happening over 20 years ago, bead necklaces are still quite popular at birthday parties today. Instead of buying the overly processed ones at the store, make your own edible candy necklaces with these two simple and fun ideas!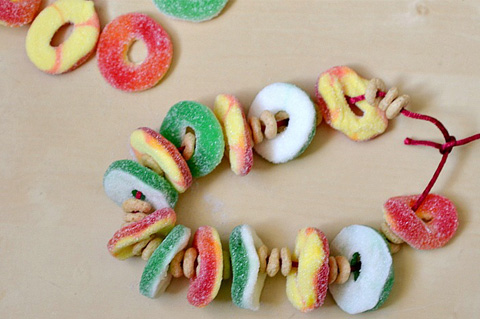 These favors will instantly keep the kids at any birthday party occupied for hours and will be a hit for the adults alike!
Ring candy string necklace
Yields 6 necklaces
This necklace is great because it doesn't require any prep work and can be made by anyone, even small kids!
Materials:
4 - 5 packages of flavored ring candy
1 - 2 boxes of circle cereal (like Apple Jacks or Cheerios)
6 strings of multi-colored string or floss
Assortment of other stringable candy
Directions: 
Lay out string, candies and cereal. Let guests create their own necklaces by stringing a variety of candy, cereal and other bite size morsels on their necklaces! Tightly tie the ends of the string or floss and enjoy!
Gumball bead necklace
Yields 5 small necklaces
Because gumballs don't naturally have holes, this will require a bit of prep work by an adult before it can be assembled. See the step by step tutorial on 1 Fine Cookie.
Materials: 
About 50 gumballs in different colors and sizes
Multi-colored string
Thumb tack
Drill
7/64 drill bit (or drill needle)
Small sewing needle
Directions: 
Using the thumbtacks, poke a hole into the center of the gumballs. Using the drill with a 7/64 drill bit, drill a hole through the center of the gumball (starting at the hole you poked with the thumbtack).
Tie the string or ribbon around a small sewing needle and thread the string through the hole in the gumball. Repeat until you're happy with the number of gumballs on your necklace!
More edible craft ideas
5 Edible crafts for kids
How to make edible crafts
Making edible crafts for kids