Healthier pigs in a blanket recipe
Pigs in a blanket are, undoubtedly, an American favorite. Made from hot dogs and flaky biscuit dough, these are front runners for picnics, birthday parties and even weeknight dinners! However delicious and kid-friendly these may be, they aren't the healthiest choice out there. So instead of banning these from your dinner table, lighten them up with this recipe, using 98 percent fat-free turkey dogs and low-sodium cheese! Your kids (and picky husband) won't even know the difference!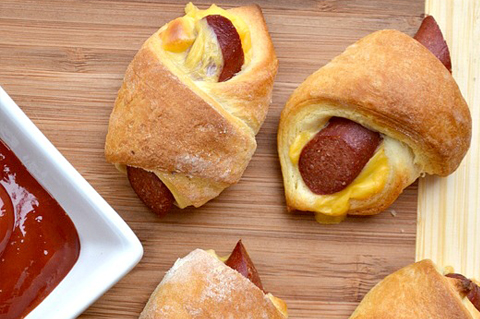 Just how healthy are these? Two of these cheesy, hearty pigs in a blanket have only 6.5 grams of fat! Plus, the turkey dogs give you 11 grams of protein! Not only will this fill you up quicker, it'll work to build lean muscle! In addition to being healthy, these are very easy and can be made in less than 25 minutes (and require just 3 ingredients).
Recipe adapted from Cooking Light.
Cheesy pigs in a blanket
Yields 12 
Ingredients: 
1 package crescent dinner rolls sheet pastry (it should come out as one large piece of dough)
5 low-sodium, low-fat turkey hot dogs, precooked and sliced in half
2 slices low-sodium American cheese
Ketchup for dipping
Directions:
Preheat oven to 425 degrees F. Grease a baking sheet liberally with cooking spray.
Cut dough vertically into 4 rectangles. Then cut those rectangles in half (horizontally) and then cut those rectangles diagonally (into triangles).
Cut cheese into 6 bite size chunks. Place cheese on the wider inside of the dough. Place a sliced hot dog on top of the cheese and roll dough up so it forms a crescent. Repeat until all ingredients have been used.
Bake for at least 10 minutes, or until crescents are golden brown. Serve with ketchup or your favorite dipping sauce and enjoy!
More quick and easy dinners
Double-decker grilled cheese sandwiches
Punch Popsicles
English muffin pizzas