Slow cooker chili mac recipe
For many people chili is all about the meat. If you are trying to incorporate a few more meatless nights into your schedule, your family will never miss the meat with this hearty and delicious vegetarian chili recipe. You can stretch the dinner (and your dollar) a little bit further by adding macaroni and making chili mac.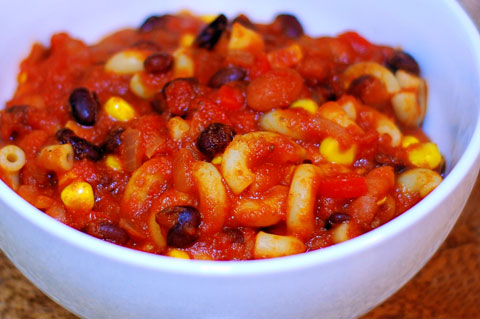 Slow cooker chili mac recipe
Ingredients: 
1 tablespoon olive oil
1 medium onion, finely chopped
1 red bell pepper, finely chopped
2 tablespoons minced jalapeno pepper
2 cloves garlic, minced
1 (28 ounce) can crushed tomatoes
1 (15 ounce) can black beans, rinsed and drained
1 (15 ounce) can chili beans, rinsed and drained
1/2 cup frozen corn
1 can tomato paste
1 teaspoon ground cumin
1 teaspoon dried basil leaves
1 teaspoon dried chili powder
1/4 teaspoon salt
1/4 teaspoon pepper
2 cups cooked macaroni noodles
Directions
Heat the olive oil in a large skillet over medium-high heat. Add the chopped onion, bell pepper, jalapeno pepper and garlic. Sauté vegetables for 5 minutes, or until all vegetables are tender.
Transfer vegetables to your slow cooker.
Add in all ingredients except for the macaroni noodles and mix well. Cover and cook on low for 4 to 5 hours.
Add cooked macaroni noodles just prior to serving. Garnish with cheese or sour cream if desired.
More slow cooker recipes
Low-carb slow cooker recipes
Slow cooker French onion soup recipe
Slow cooker sloppy joes recipe