Easy mac and cheese recipe
Who doesn't love warm mac and cheese when it's cold outside? Next time you get a craving for this classic dish, whip up this easy no-frills version.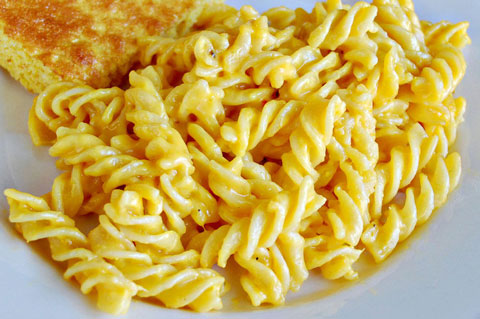 If you are craving homemade mac and cheese, but are looking for a recipe that's in between the boxed version and something fancy, this recipe is for you. With just a few simple ingredients, you'll have this one-pot supper prepped and ready for the oven in less than 20 minutes. Serve alongside some fresh veggies and cornbread and you have yourself a meal!
Easy mac and cheese
Serves 4
Ingredients: 
1 box of pasta of your choice
1 can (10-1/2 ounces) cheddar cheese soup
2 cups shredded cheddar cheese
1/3 cup Parmesan cheese
1 cup milk
2 tablespoons butter
1 teaspoon garlic pepper
1/2 teaspoon kosher salt
1/2 teaspoon ground mustard
Directions: 
Preheat the oven to 400 degrees F.
Boil a large pot of water and cook the pasta until al dente and drain.
Combine pasta, cheddar soup, cheese, milk, butter and seasonings in the warm pot and stir until well combined.
Transfer to a large casserole dish, cover with foil and bake for 40 minutes.
More easy recipes
Fast and easy fish dishes for the family
Healthy and easy pasta primavera recipe
Easy chicken enchiladas