4 Time-saving kitchen gadgets for fast meals
Kitchen gadgets are made to save you time and energy in the kitchen. Here are four of our favorite time-saving kitchen tools and delicious ways to use them.
KitchenAid Pro 500 Series bowl lift stand mixer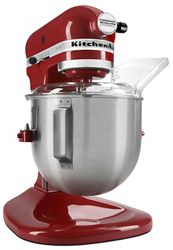 My KitchenAid stand mixer is over 15 years old and still mixing, whisking and kneading, as well as it did when I first got it — saving me time in the kitchen with every use. Instead of having to hand mix cookie dough or batter for baked goods, you simply add the ingredients to the stand mixer bowl and let the paddle attachment (also called the flat beater) do the work while you tend to another kitchen task. In addition, you can whip egg whites or cream with the whisk attachment and use the dough hook to knead bread or pizza dough without wearing out your arms. The KitchenAid Pro 500 Series has a 5-quart bowl that can hold the makings for 9 dozen cookies, over 4 loaves of bread, or a whopping 6-1/2 pounds of mashed potatoes (yes, you can make mashed potatoes with your mixer).
Recipes using a stand mixer:
Cuisinart Prep 11 Plus 11-cup food processor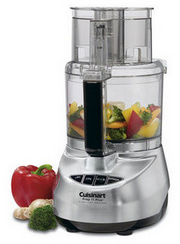 Though you may be tempted to use your knives to slice, dice, chop and mince every ingredient while you're cooking, spare your wrists from carpal tunnel syndrome and save time by relying on your food processor, such as the Cuisinart Prep 11 Plus. It comes with a variety of slicing and grating discs, as well as mixing and dough blades, making quick work of food prep. You can use your food processor to: shred or slice cheese and vegetables, make pastry, purée soups and sauces, blend smoothies, pulse ingredients into a chunky dip or salsa, whip cream cheese and more. You may be thinking the food processor adds to your clean up time, but the bowl, blades and discs can quickly go into the dishwasher to keep you from getting dishpan hands.
Recipes using a food processor:
Kuhn Rikon Duromatic 6-quart pressure cooker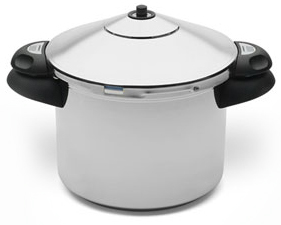 If you've avoided using a pressure cooker due to fear of it exploding in your kitchen, you'll be relieved to know that today's pressure cookers are safer and fail-proof, compared to the pressure cookers in your grandma's era. Pressure cookers drastically cut down on cooking time for meats, soups, stews, vegetables, beans and grains. The Kuhn Rikon Duromatic is a large-capacity pressure cooker that can quickly cook a whole chicken or 4-pound roast and will be your go-to kitchen tool for big batch cooking. It is made of stainless steel and has five safety backups in place to prevent excessive pressure buildup.
Recipes for the pressure cooker:
Hamilton Beach 7-quart oval slow cooker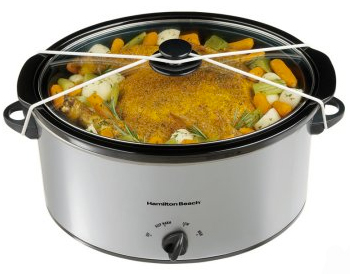 Slow cookers may take hours to cook a meal but your hands on time is minimal. The Hamilton Beach 7-Quart Oval Slow Cooker gives you the ability to batch cook soups, stews, chili, grains, meats (up to an 8-pound roast!), vegetables, fruit and even desserts. If you need to feed a crowd, this kitchen gadget won't let you down. You can cook on low for up to 10 hours or on high for as few as 4 hours, depending on your schedule. You can also place already-hot foods in the slow cooker to keep them warm until serving time. Slow cookers will save you even more time in the kitchen when you cook large recipes and freeze leftovers for fast meals later in the month.
Recipes using a slow cooker:
More timesaving tips
Timesaving tips for on-the-go lunches
Timesaving tips for working moms
5 Quick and easy pork recipes