Not the Perfect Cook: Salmon cakes that are cheap and easy
Not the perfect cook, but need something tasty? These salmon cakes turn an old fashioned staple into a weekly favorite!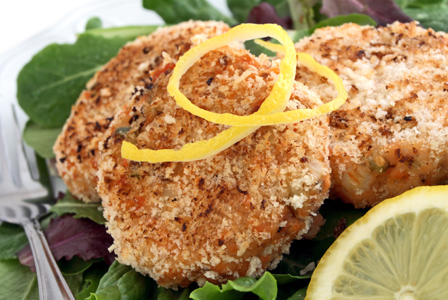 Keeping families out of the drive thru and cooking at home is a great passion of mine. It can be easily achieved with just a bit of thoughtful planning and sticking to a careful budget. Not only are these salmon cakes delicious and simple to make, but they are extremely easy on your budget.
Adding a cilantro-lime cream sauce to the salmon cakes makes them not only appear like a restaurant-worthy meal, but kids (of all ages) will approve and ask for this item to be thrown into your weekly rotation! I also like to serve these as salmon burgers for an extra treat using the same recipe. I know that I am Not the Perfect Cook but putting a perfectly good meal on your table is easier than you think, especially with favorites like these!
Old fashioned salmon cakes
Serving Size 4-6
Ingredients:
2 cans canned salmon, drained (but liquid reserved in separate bowl)
1/2 white onion, grated
2 eggs, beaten
1 cup bread crumbs seasoned to your taste (ground black pepper or cayenne pepper)*
Dash of hot sauce (more or less, as you desire)
2 tablespoons olive oil
finely chopped garlic, if desired
*Cook's Note: Salt is not needed because the canned salmon is salty enough.
Directions:
Mix all ingredients in a large bowl. The reason you grate the onion into this mixture is for the fine texture, along with the onion's juice, which lends a lot of flavor.
Form mixture into patties (cakes).
If the mixture is too dry, add the liquid from the canned salmon (feel free to dilute this mixture with some water) by adding a teaspoon at a time.
Heat olive oil in a large skillet over medium heat and cook salmon cakes for about 3 to 5 minutes on each side.
Serve with the cilantro lime cream sauce (recipe follows).
Cilantro lime cream sauce
Ingredients: 
1 bunch cilantro, stems removed
1 cup sour cream (or Greek yogurt)
Juice of 1 to 2 limes
Zest from 1 lime
Salt and pepper to taste
Directions:
In a blender (or even by hand) combine cilantro, sour cream, lime juice and lime zest. Add salt and pepper, blend together and serve with salmon cakes.
More salmon and crab recipes