Bean recipes: Canned beans to the dinner rescue
Keeping a tasty arsenal of canned beans in your pantry gives you countless ways to deliciously and quickly feed your family. Here are seven easy ways canned beans can come to your dinner rescue.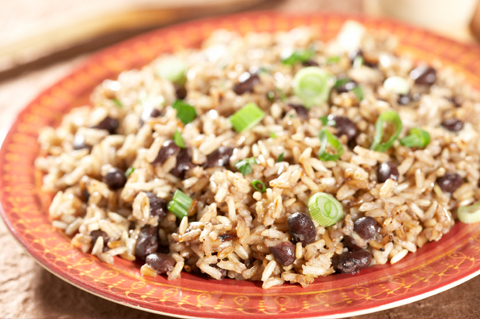 Beans and rice
If you've got canned beans and rice in the kitchen, you've got the makings of a balanced meal. Add cilantro, green onions, canned green chiles and Monterey Jack cheese when you're craving Mexican. Or give beans and rice a Cajun flair by tossing in ham, celery, green pepper and Creole seasoning. When the occasion calls for a casserole, add diced cooked chicken, broccoli, fresh herbs, cheddar cheese and bake in the oven until hot and bubbly.
Bean salads
Pick a variety of canned beans, such as kidney beans, black beans, and garbanzo beans — then toss with thinly sliced red onions and your favorite olive oil vinaigrette to make a colorful and high-fiber side salad. In addition, toss a handful of beans to your green salads or grain salads as a convenient nutrient-packed ingredient.
Homemade hummus
Hummus is a protein-rich and super-easy recipe you can make at home. Grab a can of garbanzo beans and purée with olive oil, tahini and lemon juice. Serve hummus as: a delish dip for chips or veggies, a spread on a tortilla and wrap with veggies, or as a sauce for pizza.
Bean burritos
If you're aiming to cut down the red meat your family eats, swap canned kidney beans or black beans for part (or all) of the ground meat in your burrito recipes. Warm and mash the beans (or keep them whole) before mixing with meat (if using), then add rice and cheese to fill the tortillas. You can also use canned refried beans for a traditional bean burrito rendition.
White bean soup
Canned white beans are a versatile ingredient that can be stirred into soups to stretch a recipe or, best yet, featured as the main soup ingredient to deliver a delicious dose of protein, fiber and great flavor.
Baked beans
No need to start from scratch when you have canned beans in your pantry. Mix an assortment of canned beans or canned pork and beans with brown sugar, onion, maple syrup and bacon — then bake it until bubbling hot. Sweet and savory come together to give you a great grilling side dish.
Chili with beans
Canned beans give chili a low-fat nutritional boost by adding protein and fiber. Kidney and black beans are the most popular beans to simmer in this hearty comfort food meal — but you can add any canned bean you have on hand. Try canned black soy beans for a tasty change.
More bean recipes
Easy, healthy bean recipes for summer
Broccoli rabe with cannellini beans
Quick and tasty black beans recipe