3 Childhood favorite recipes: All grown up
You've grown up and your tastes have grown up with you, but that doesn't mean you have to abandon your favorite childhood recipes. These three grown-up style family favorites will have you and the kids going back for seconds.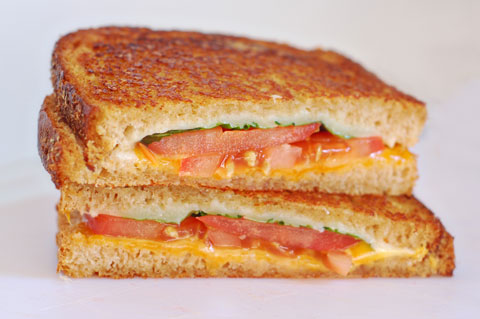 Tomato basil grilled cheese
Serves 4
Ingredients: 
8 slices of bread
1/2 cup softened butter
1/4 cup freshly grated Parmesan cheese
4 slices of provolone cheese
4 slices of cheddar cheese
2 large plum tomatoes, thinly sliced
8 large basil leaves
Directions: 
Combine softened butter and Parmesan cheese in a bowl. Spread the mixture onto one side of each of the 8 slices of bread.
Place bread, buttered side down, on a piece of wax paper. Layer with provolone, cheddar, tomato slices and basil leaves. Top with another slice of bread.
Place sandwiches in a skillet and cook on medium-high heat until both sides are golden brown.
Herb battered chicken strips
Serves 4
Ingredients:
1 pound chicken breast, cut into thin strips
1 cup flour
1/4 cup grated Parmesan cheese
2 garlic cloves, minced
1 tablespoon minced dill
1 tablespoon dried oregano
1/4 teaspoon salt
1/4 teaspoon pepper
1 egg
1/2 cup milk
Vegetable oil
Directions:
Combine flour, cheese, garlic and seasonings in a large bowl.
In a separate bowl, whisk the egg and the milk together.
Dip chicken strips into the egg mixture and then dredge in the flour mixture until the chicken strips are fully coated.
Heat 1-inch of vegetable oil in a large skillet until hot.
Place chicken strips in the oil in a single layer and fry, turning halfway through, until both sides are golden brown.
Fancy mac and cheese
Serves 4
Ingredients: 
2-1/2 cups uncooked elbow macaroni
1/2 cup grated Gruyère cheese
1/2 cup grated sharp cheddar cheese
1/2 cup grated fontina cheese
1-1/2 cups cream
2 tablespoons dry white wine
1/4 teaspoon pepper
Pinch of nutmeg
2 tablespoons freshly chopped basil leaves
1/4 cup panko bread crumbs
Directions: 
Preheat oven to 350 degrees F.
Boil water and cook macaroni until al dente. Drain and return to the warm pot.
Add in cheeses, cream, wine, pepper, nutmeg and basil leaves. Stir until well combined.
Pour mac and cheese into 1-1/2 quart casserole dish. Sprinkle bread crumbs on top and bake at 350 degrees F for 30-35 minutes, or until the cheese is bubbly and the mixture is heated through.
More grown up recipes
Grown-up grape soda recipe
Camp inspiration: Grown-up s'mores
Grown-up Shirley Temple recipe