Not the perfect cook: Easy chicken enchiladas
Not the perfect cook? These chicken enchiladas are so easy, they're perfect!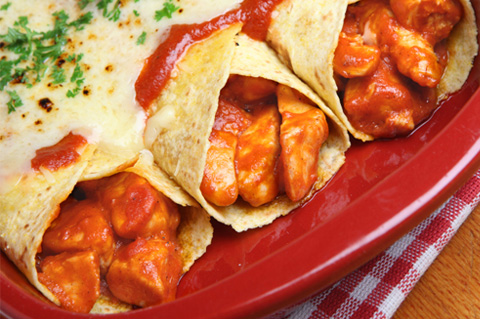 We're all busy these days. Between work, deadlines, homework, music lessons, baseball practice, track meets, conference calls, birthday parties and just life in general — we can find our grocery lists and dinner menus lost in the shuffle. But with just a little planning, a homemade meal can actually become an easy task and deter you from making dinner reservations or pulling into the drive-thru.
Chicken enchiladas can be such a labor-intensive dish. You want the authentic heat and flavor, yet you might not have all day to chop, roast, stew, simmer and bake. Enter, this recipe! I sometimes feel embarrassed when friends gush over my enchiladas. I feel that I should whisper something like, "I'm so glad that you enjoyed them, but I have a confession — they are crazy easy and take no time to make!" I am not the perfect cook but I can put a perfectly good meal on the table and I know that you can, too!
Quick and easy chicken enchiladas
Serving size 4-6
Ingredients:
2 (14-1/2 ounce) cans diced tomatoes with chilies
12 ounces cream cheese
3 boneless skinless chicken breasts, cooked and shredded
9 (6 ounce) flour tortillas
1/2 cup to 1 cup queso fresco or shredded Mexican cheese
Heavy whipping cream (approximately 1 tablespoon)
Directions:
Preheat oven to 350 degrees F.
Grease a 9 x 13-inch pan and set aside.
Pour canned tomatoes through a colander to drain liquid.
In a medium saucepan, heat tomato mixture and cream cheese until it is melted.
Stir in shredded chicken and remove from heat.
Spoon mixture down the center of flour tortillas, roll up and place seam side down in greased dish. Repeat with remaining mixture.
Crumble queso fresco or sprinkle Mexican cheese over tortillas.
Drizzle heavy cream over top.
Bake for 30 to 40 minutes.
Cook's note: A rotisserie chicken may be substituted for the chicken breasts.
More Mexican recipes to try
Chicken quesadillas
Creamy chicken enchiladas
6 Takes on taco recipes