Peanut butter and jelly muffin recipe
If you are like many Americans, you grew up eating peanut butter and jelly sandwiches. These creamy (or crunchy) sandwiches are still one of the most popular lunch options to date for kids and adults alike. Turn this delicious sandwich into a bite-sized morning treat with this muffin recipe!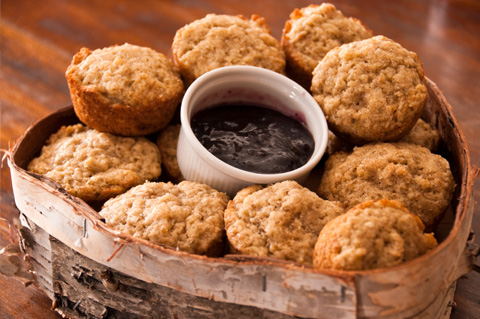 A wonderful thing about this recipe is that you can swap out whatever kind of jam you want (and even include fresh fruit) so even the pickiest of eaters will enjoy! Pack these as a mid morning snack for your kids or husband or as a treat for the afternoon. Regardless of when you eat them, these muffins are sure to be a huge hit with kids and adults alike.
Peanut butter and jelly muffins
Yields 16 muffins
Ingredients: 
1 cup all-purpose flour
3/4 cup whole wheat flour
1/4 cup sugar
1/4 cup packed brown sugar
1 tablespoon baking powder
Pinch of salt
1-1/4 cup low-fat milk
1/3 cup peanut butter
1 egg
2 tablespoons soft butter
1 teaspoon vanilla or almond extract
1/4 cup preserves of choice
Directions: 
Preheat oven to 400 degrees F. Line a muffin tin with paper cups. Set aside.
Whisk flours, sugars, baking powder and salt in a large bowl. In another bowl, mix milk, egg, butter, peanut butter and extract together. Add flour mixture to the wet mixture and combine until fully mixed in.
Spoon batter into the muffin cavity, filling only 1/3 way full. Scoop a teaspoon of preserves onto the batter. Top the preserves with an additional scoop of batter.
Bake for 18 - 22 minutes, or until muffins are golden brown.
More easy breakfast recipes
Cranberry oatmeal muffins
5 Breakfast smoothies the whole family will love
The best kid-friendly breakfast recipes