Spaghetti pie recipe
If you have never heard of spaghetti pie, then be glad that you're here. Spaghetti pie is a fun new way to serve up an old Italian favorite. With finely chopped veggies hidden inside, this dish is sure to satisfy your family's pickiest eaters. Hint: If you ever find yourself with a small amount of various types of pasta left over, this recipe is a great way to use up what's left in the box. You can combine spaghetti, fettuccine and angel hair, all in one pie and your family will love it just the same!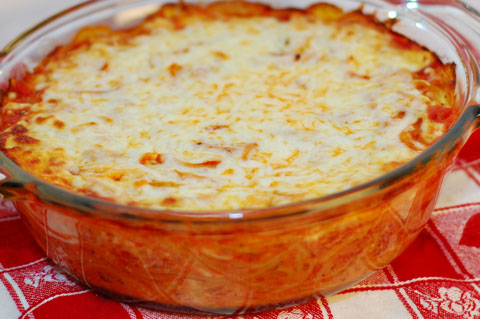 Spaghetti pie recipe
Serves 6
Ingredients:
1 tablespoon olive oil
1 large carrot, peeled and diced
1 celery stalk, thinly sliced
1 small zucchini, peeled and diced
8 ounces spaghetti
1 cup ricotta cheese
1 egg
1-1/2 cups shredded mozzarella cheese
1/2 teaspoon basil
1/2 teaspoon oregano
Salt and pepper to taste
Directions:
Preheat oven to 375 degrees F. Boil spaghetti until al dente and drain. Heat olive oil in a small skillet and sauté vegetables for 5 minutes or until tender.
In a large bowl combine pasta noodles, spaghetti sauce, vegetables, ricotta and 1 cup of mozzarella cheese. Add in the egg and seasonings.
Transfer ingredients to a 9-inch pie dish and sprinkle with the remaining 1/2 cup mozzarella cheese.
Bake for 25 minutes until the cheese is golden brown and the pie is bubbly.
More great pasta articles
Pasta sauce recipes and variations
Kid-friendly pasta recipes for lunch
Cooking 101:  How to make perfect pasta