5 Healthy breakfast recipes the kids can make
Streamline your morning routine and keep your kids well-fed by teaching them how to make their own breakfast. These five recipes are not only kid-friendly, they are healthy and hearty enough for the whole family to enjoy.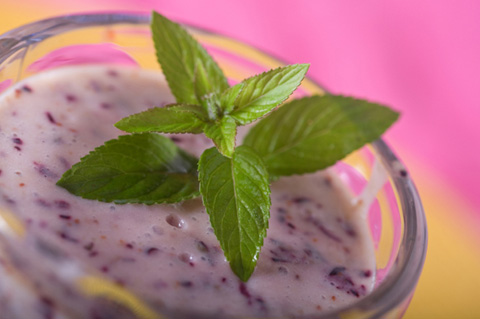 Berry good smoothies
Serves 2
If you've got fresh or frozen berries, yogurt and some nut butter on hand, your kids have all they need to whip up a healthy breakfast. This berry recipe is merely a guide. Your kids can use whatever fruit is in season and add other goodies of their choice.
Ingredients:
2 cups fresh or frozen (thawed) blueberries, blackberries, strawberries (or a variety)
1 cup Greek yogurt
2 tablespoons almond butter
1/2 cup low-fat milk or 100 percent fruit juice
Directions:
Teach your kids how to safely use the blender (e.g., never put their fingers near the blades, keep the lid on while blending...).
Have them place all ingredients in the blender, secure the lid and blend until smooth.
Waffle sandwiches
Serves 2
Keep your kids interested in fixing their own breakfasts by making the usual breakfast dishes new and different. Instead of plain old waffles with syrup, use waffles in place of toast or bread. Challenge your kiddos to come up with the coolest waffle sandwich recipes using fun ingredients, such as: thinly sliced deli meats and cheese, nut butters and fruit, or egg salad leftover from yesterday's lunch.
Ingredients:
4 whole grain toaster waffles
Your children's choice of fillings
Directions:
Make sure your kids know how to safely use the toaster.
Teach them how to toast the waffles and let them make their own sandwiches.
Cereal plus
Serves 4
Cereal is certainly the easiest of breakfast recipes — pour cereal, add milk, and enjoy. You can make it a healthy kid-friendly endeavor by putting fruit, nuts, seeds and dark chocolate chips on the table. To make it mom-friendly, keep dried fruit, different varieties of nuts, seeds and dark chocolate chips in individual storage containers that are quick from pantry to table.
Ingredients:
3 to 4 cups whole grain cereal
Fresh fruit: banana slices, berries and diced apples
Dried fruit: cranberries, raisins, cherries, and currants
Nuts and seeds of your choice
Dark chocolate chips or chopped dark chocolate bar
Milk (regular or dairy-free)
Directions:
Make sure your kids have cereal and milk pouring skills then let them pick and choose their favorite additions.
Breakfast roll-ups
Serves 4
Tortillas, cream cheese, ham and jam are everyday ingredients that your kids can transform into fast breakfast dishes.
Ingredients:
4 (8-inch) whole grain tortillas
4 to 6 ounces whipped cream cheese
4 tablespoons strawberry jam or preserves
4 thinly sliced pieces of ham or turkey
Baby spinach leaves
Directions:
Set all the ingredients out on the table.
Show your kids how to lay the tortillas flat and spread cream cheese then jam over each tortilla, leaving a border all around the edges.
Top with ham or turkey, baby spinach leaves and roll up to eat.
Crunchy-topped Greek yogurt
Serves 4
Greek yogurt is power-packed with protein, calcium, and probiotics — making it a must-eat for your growing kiddos. Since unadorned yogurt can seem boring to the need-to-be-intrigued child, let your kids get creative with colorful and crunchy yogurt toppings.
Ingredients:
24 to 32 ounces low-fat Greek yogurt (depending on the ages of your children)
Fresh fruit you have on hand
Granola or trail mix
Directions:
Dish out the yogurt and let your kids decorate it with toppings.
More kid-friendly breakfast recipes
Calcium-rich breakfast recipes for strong bones
5 Breakfast smoothies the family will love
Kid-friendly vegetarian breakfast recipes