8 Energy boosting diet tips for busy moms
If getting past the 10 a.m. or 3 p.m. slumps is on your daily agenda, it's time to recognize that being a busy mom does not mean an inevitable fight against fatigue. Sure, we moms have a lot on our plate but it very well could be the healthy foods not on our plate that is sapping our vitality. Here are 10 energy boosting diet tips that will transform you from mom-run-ragged to a super mom with enviable vim and vigor.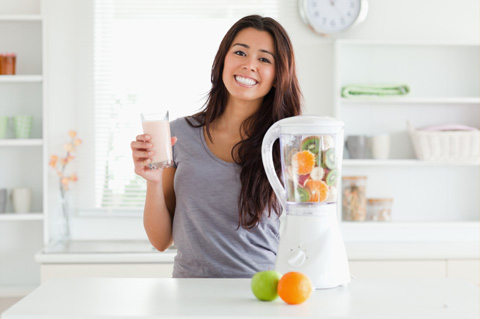 Drink more H2O
Drinking water is a simple (yet often overlooked) essential way to keep up your energy levels. Yes, we know that walking back and forth to the fridge to refill your glass is inconvenient, so we recommend buying yourself a really cool reusable water bottle and aim to get 64 ounces of water every day. Our favorites are the Sigg Bottles that come in dozens of cool designs and the Hydros Filtering Water Bottle with side-fill port.
Have a cup of green or black tea
Since we're on the topic of hydration, let tea become part of your daily routine. Not only is tea high in antioxidants, to help reduce your risk of cancer and heart disease, it has been shown to boost brain power and aid in weight loss. Drink two to three cups (hot or iced) every day to give your mind and body a delicious lift. Our go-to tea is Good Earth Original Sweet and Spicy Tea and Herb Blend, a delicious combination of black tea, cinnamon and orange.
Reap the benefits of a quick breakfast
You may be thinking — when you have to drag the kids out of bed just to get them to the bus, who has time to make breakfast, much less eat it? But, this is where you put your planning skills to use and have ready-to-drink smoothies or breakfast sandwiches awaiting you when you rise. Make them the night before so you can simply grab them and go about your morning. When you skip breakfast, you deprive yourself of the most important energy-boosting meal of the day, and doughnuts or finishing off your kiddo's cereal doesn't count.
Eat mini meals
If your daily meal routine consists of two or three large meals, no wonder your energy levels are akin to a roller coaster. Every time you eat large amounts of food, your digestive system goes into overdrive, which means the rest of your body will feel like going into a coma. Keep your energy levels high by eating five or six smaller meals, spacing them out every 3 to 4 hours so your energy tank never runs on empty. Aim for three modest meals and two in-between meal snacks.
Snack wisely
In line with the mini-meals habit, pick your snacks wisely: fresh fruit with Greek yogurt, veggies and hummus, a handful of nuts and dried fruit, half a sandwich, or a good-for-you nutrition bar. Since many packaged, convenience snacks are loaded with sugar and artificial ingredients, read labels and choose brands that are all-natural and deliver a balance of protein and fiber (which will keep you feeling full longer) for under 200 calories. One of our favorite nutrition bars is Pure Naturals Chocolate Almond Bar, with 7 grams of protein and 5 grams of fiber.
Fill up on fresh fruit and vegetables
Fresh is always best when it comes to boosting your energy levels for the long-term. Examine your usual eating habits and count how many servings of fruits and vegetables you eat every day. Since many Americans eat 2 to 3 of the recommended 9 servings, there's a good chance your daily produce consumption is lacking. Ditch the junk food, packaged products, and fast food and make way for plant-based foods. Low in calories, a good source of fiber, and high in antioxidants and other health-promoting phytonutrients, fresh produce gives you instant energy, and when partnered with other wholesome foods, will deliver sustained energy for your entire day.
Go for whole grains
Carbs often get a bad rap — and the refined flour products deserve it. However, whole grains will give your body the fuel it needs to get you through hectic mornings and non-stop afternoons. Swap out white carbs (sugary cereal, bread, rice, pasta) and replace them with whole wheat or whole grain varieties. Put oatmeal, brown rice, wild rice, quinoa, whole wheat flour, whole wheat pasta, and other unrefined grains on your menu. Whole grains are high in fiber, which will help keep you full longer. Be sure to practice portion control so you don't end up overeating and depleting your energy.
Add protein to every meal
Protein will also keep you full longer because it is takes more work for your body to digest. Protein itself is not a good fuel source for energy but when eaten in small amounts along with fresh produce and whole grains, it will give your energy levels staying power. Have an egg sandwich for breakfast or lunch, add nuts to your cereal, toss cooked chicken or fish into your green salad, stir beans into your soups and stews, and drink a glass of low-fat milk for a protein boost.
More healthy diet tips for busy moms
10 Diet tips to eat like the Biggest Loser
How to cook without fat
7 Diet tips for women to eat healthier at home