Healthy chicken nugget recipe
Are your kids fast food nuts who can't get enough of McDonald's chicken nuggets or chicken tenders? Feed them a healthier alternative to the deep fried favorite by making your own baked chicken nuggets, with a spicy buffalo kick. They'll soon prefer these over the fried version.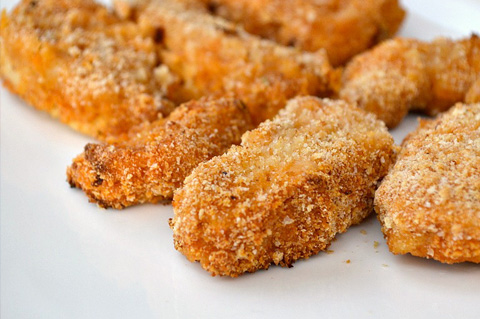 If the buffalo packs too much heat for you or your family, simply substitute it with a more mild marinade, like BBQ or honey mustard!
Baked buffalo nuggets
Serves 6 (about 3-1/2 nuggets per person)
Ingredients:
4 boneless skinless chicken breasts
2 cups bread crumbs (panko for a crispier crust)
2 tablespoons crushed red pepper (or garlic powder)
2 teaspoons sea salt
1 teaspoon crushed pepper
1-1/4 cup buffalo sauce (or your sauce of choice)
Directions:
Cut each piece of chicken into small nuggets (about 5 nuggets per chicken breast). Place nuggets into a bowl and pour sauce over them. Cover with foil and chill overnight (or at least 6 hours).
Once chicken has marinated, preheat oven to 500 degrees F. Grease a cookie sheet with nonstick cooking spray. Mix breadcrumbs and seasonings together. Roll each nugget into the breadcrumbs, covering liberally, until each piece is thoroughly coated. Place on the cookie sheet and repeat until all chicken has been coated.
Bake for 10 - 12 minutes or until nuggets are crispy. Serve with your favorite dipping sauce and enjoy!
More healthy dinner recipes
Healthy recipes for your kids
5 Healthy recipes for picky eaters
Healthy sandwich recipes