Benefits of cooking with preschoolers
Cooking can do a lot more than teach young kids about food preparation. It can help build their vocabulary, introduce math skills and much more. Read on to learn more about the benefits of cooking with preschoolers.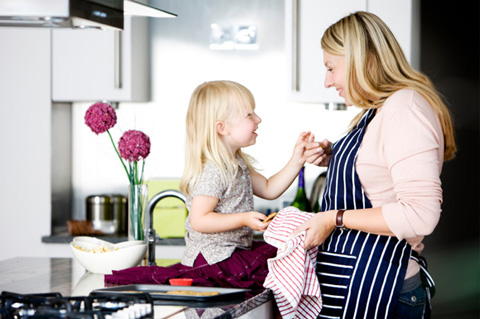 Cooking introduces math skills
Basic math skills, from simple counting to fractions, can be introduced in the kitchen. As you add ingredients to the bowl or pan, ask your little one to count along with you. Introduce the concept of fractions with the use of measuring cups and spoons. Preschoolers can understand the definition of "half" even it's too early for them to learn much more.
Cooking promotes literacy
When you cook with your kids, use a recipe. Read it out loud together, introducing your child to new words and terms along the way. For preschoolers, even if they can't read at all yet, this will help introduce letters, promote literacy and build the child's vocabulary. As kids get older, they can continue to reap the benefits of cooking. For example, cooking foreign cuisine can introduce them to different cultures.
Cooking develops their senses
Throughout our lives we learn about new things and make memories through exploring with our different senses. While in the kitchen, talk to your kids about how the foods and ingredients look, feel, smell and taste. For picky eaters, if they have helped in the preparation of food, and like the look and the smell, they'll be more willing to give new foods and dishes a try. While grocery shopping, invite kids to seek out unique fruits and veggies that they haven't tried before and then incorporate their food choices into your meal planning.
Cooking boosts confidence
As preschoolers begin to explore their independence, they love the opportunity to accomplish things on their own (or with a little of their parents' help). Making food -- from tossing a salad to assembling tacos to baking cookies -- will help boost their confidence as they feel a sense of accomplishment. When preparing, cooking and serving food, praise your child's efforts every step of the way -- no matter what their creations look or taste like.
Cooking provides bonding time
The best thing about cooking with your kids is the quality time you spend together. Cherish spending as much time as you can with your preschoolers because before you know it, they'll be growing up, off to school and you'll be seeing them less and less.
More about cooking with kids
Kids help with the cooking? Sure!
Teach kids to cook (using a video game!)
Kids a Cookin' - Teach 'em while they're young