Healthy and tasty snacks for kids
You want your kids to eat nutritious snacks and all they want is cookies, chips and other unhealthy items. Find a compromise with these healthy, tasty snacks that your kids will actually want to eat.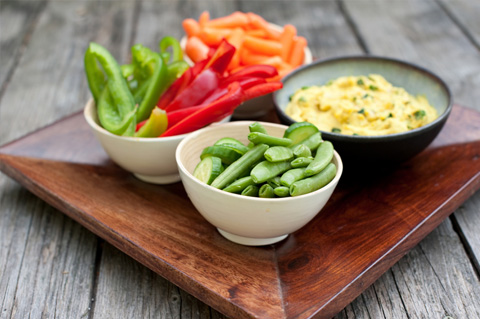 Hummus
Hummus is the perfect dip for kids. It's nutritious (contains iron, folate and other vitamins) and delicious. It's not as messy as ranch dressing and other dips -- a big plus for moms. Kids love dipping, so give them a plate of whole grain crackers, pita bread wedges, celery, carrot sticks and other raw veggies.
Whole grain waffles
Waffles aren't just for breakfast anymore. Cut waffles into strips and top them with whole fruit spread, low-fat cream cheese or peanut butter. Kids can eat whole grain waffles for a snack anytime of day.
Fruit and cheese kabobs
Make fruit and cheese more appealing to little ones by cutting the cheese into unique shapes with cookie cutters, and then place the fruit and cheese on kabob skewers. Use a variety of kinds of cheese, and all types of fruit -- from berries to mandarin orange slices to melon balls.
Popcorn
Instead of chips, let your kids munch on popcorn. Popcorn doesn't have to be dripping with butter to taste good. Instead, pop up a bag of plain popcorn and then add your own toppings. Kids will love popcorn with a dusting of Parmesan cheese or a sprinkle of cinnamon. You can also mix popcorn with peanuts, mini marshmallows, raisins or any number of other add-ins.
Mini pizzas
Whole wheat English muffins serve as the crust for healthy mini pizzas kids will love. Add a thin layer of tomato or pizza sauce, low-fat mozzarella cheese and veggies such as mushrooms, olives and green peppers. Broil for just a few minutes and your kids will have a tasty, filling snack.
Frozen yogurt pops
Ditch the Popsicles and make your own frozen yogurt pops at home. Take plain low-fat yogurt and add in your kids' favorite berries along with some ground nuts or a bit of granola. Freeze them in molds or cups and add a thick pretzel stick as the stick.
Cheesy quesadillas
Add a blend of low-fat cheeses, red peppers, diced onions and other vegetables to whole grain tortillas to create a healthy, satisfying snack that kids of all ages will love. You can melt the cheese with the oven broiler, microwave or even a panini maker. Cut the quesadillas into wedges and serve with salsa, guacamole or low-fat sour cream.
More snacks for kids
Top 10 healthy snacks for kids
New snack ideas for kids
Fun, smart snacks for kids