5 Fabulous Valentine's Day desserts
On Valentine's Day, make a batch of brownie hearts, red velvet cupcakes, heart-shaped cookies or other Valentine's Day treats. Whether you are baking for your kids or for your sweetheart, these Valentine's Day dessert recipes are sure to please.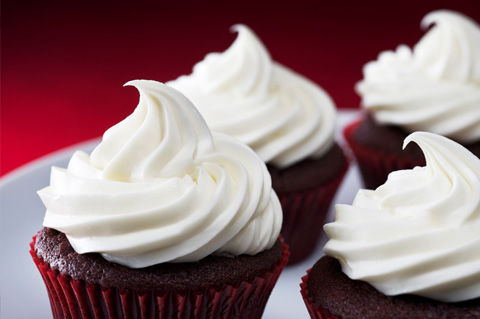 Red velvet cupcakes
Serves 28
Kids and adults alike love these delicious Valentine's Day cupcakes. They are so moist and tasty that they don't need any icing -- just a dusting of powdered sugar. Recipe courtesy of BHG.com.
Ingredients:
3 eggs
3/4 cup butter
3 cups all-purpose flour
2 teaspoons unsweetened cocoa powder
2-1/4 cups sugar
1-1/2 teaspoons vanilla extract
1 (1 ounce) bottle red food coloring
1-1/2 cups buttermilk
1-1/2 teaspoons baking soda
1-1/2 teaspoons vinegar
Small chocolate heart-shaped cookies (optional) 
Powdered sugar (optional)
Directions:
Let eggs and butter stand 30 minutes. Preheat oven to 350 degrees F. Line 28 (2-1/2-inch) cupcake pans with paper liners. Set aside.
In medium bowl combine flour, cocoa powder and 3/4 teaspoon salt. Set aside. In large mixing bowl beat butter on medium-high for 30 seconds. Add sugar and vanilla and beat until combined. One at a time, add the eggs and beat on medium after each. Beat in food coloring on low.
Alternately add flour mixture and buttermilk to egg mixture. Beat on low to medium speed after each, just until combined. Stir together baking soda and vinegar. Add to batter and beat just until combined.
Spoon batter into prepared pans, filling each about two-thirds full. Bake 15 to 17 minutes. Cool in pan on wire rack for 5 minutes. Remove from pans. Cool completely. Top with small chocolate cookies, if desired. Dust with powdered sugar.
Brownie hearts
Serves 12
Basic brownies get a Valentine's Day twist in this recipe adapted from Martha Stewart's version.
Ingredients:
1/2 pound (2 sticks) unsalted butter, plus more for cake pan
2-1/2 cups packed light-brown sugar
6 ounces unsweetened chocolate, coarsely chopped
3 large eggs
1/2 vegetable oil
2 teaspoons vanilla extract
2 cups all-purpose flour
1/2 teaspoon salt
Cocoa powder
Powdered sugar
Granulated pink or red sugar
Directions:
Preheat oven to 325 degrees F. Butter a 9 x 13-inch cake pan. Cut a piece of waxed paper to fit the bottom, and press it onto the buttered surface.
In a large bowl, combine butter, brown sugar and chocolate. Microwave on high for 1 minute, then stir. Continue heating at 10-second intervals, removing when softened, but not completely melted.
Add the eggs, oil and vanilla to the melted chocolate and beat with a wooden spoon. Beat in flour and salt and then pour into the prepared pan, smoothing the top.
Bake 30 to 35 minutes until a toothpick inserted into the center comes out almost clean.
Run a knife around the edge of the pan to loosen and then turn the brownie cake out onto a baking sheet. Flip over onto your work surface.
Using a 2-1/2-inch cookie cutter, cut out the brownies and then dust with cocoa, powdered sugar and/or colored granulated sugar. Take the leftover scraps, form them into 1-inch balls and roll them into the coating as well.
Valentine's Day roll out cookies
Kids love creating cookies with cookie cutters. Prepare this roll out cookie dough a day ahead of time, and decorate with red, pink and white icing, sprinkles and granulated sugar for Valentine's Day.
Linzer heart cookies
Classic Linzer cookies are sandwich cookies filled with tasty jellies and other fillings. For Valentine's Day, make Linzer cookies with a heart cut-out filled with raspberry or strawberry jams. Check out this recipe for lemon scented Linzer cookies that are perfect for Valentine's Day.
Valentine's Day cookie pops
If your kids haven't tired of cookie or cake pops, then make a batch of these delicious Valentine's Day cookie pops to take to school and share with their classmates. Decorate the pops with red, pink and white icing and candies to stick to the Valentine's Day theme.
More Valentine's Day recipes
Warm chocolate coconut cake
How to make a heart-shaped Valentine's Day cake
Very cherry treats for Valentine's Day
---
More From SheKnows Explorer
---
---