Valentine's Day breakfast recipes
Treat your family to a special Valentine's Day breakfast with heart-shaped pancakes, stuffed French toast and other tasty breakfast treats.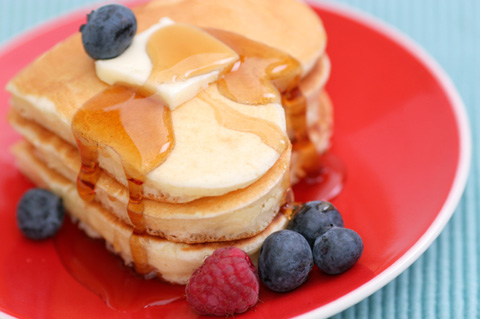 Heart-shaped pancakes
Making Valentine's Day pancakes is easy. Just use your favorite pancake batter recipe and add a few drops of red food coloring for a festive pink tint.
When spooning the batter onto a heated skillet, manipulate it to form a heart. If you are finding this difficult, pour the batter into a squeeze bottle to make it easier to control. You can also place a metal heart-shaped cookie cutter (sprayed with cooking spray) on the skillet to be your guide. Use tongs to remove the cookie cutter so you don't burn your fingers.
When serving, top the pancakes with whipped cream and fresh strawberries or strawberry syrup to go along with the red and pink Valentine's Day theme.
Stuffed French toast
Serves 6
Everyone loves French toast. For Valentine's Day take things up a notch by stuffing this breakfast favorite with cream cheese and strawberries.
Ingredients:
Non-stick cooking spray
12 slices bread
1/2 cup cream cheese softened
1/2 cup strawberry jam or fruit spread
1/2 cup sliced fresh strawberries
2 large eggs
1/2 cup milk
1 teaspoon vanilla extract
2 tablespoons powdered sugar
1/2 cup maple or strawberry syrup (optional)
Directions:
Spray skillet with cooking spray and set aside.
Lay down six slices of bread on the work surface. Place a teaspoon of cream cheese, a generous teaspoon of jam and five strawberry slices on each piece of bread, leaving edges free of food. Top with remaining slices of bread.
In a mixing bowl, combine eggs, milk and vanilla. Very carefully dip sandwiches in egg mixture. Don't let the strawberries fall out. Press the edges of the bread together to seal.
With skillet on medium heat, cook each French toast sandwich for 3 minutes until the first side is golden brown. Turn the sandwich over and continue to cook until second side is golden brown as well. Remove from pan and sprinkle with a dusting of powdered sugar. Serve with syrup, if desired.
Valentine's breakfast casserole
Serves 6
With a heart-shaped cake pan, you can create any number of Valentine's Day dishes. This casserole is perfect for your holiday breakfast or brunch. You can substitute or add in any type of veggies (mushrooms, spinach, etc.) or meat that you prefer.
Ingredients:
Non-stick cooking spray
1 cup croutons
2 tablespoons butter, melted
1 cup cheddar cheese, shredded
1 cup milk
6 eggs
1-1/2 teaspoons mustard
6 slices bacon, cooked and crumbled
1/2 cup breakfast sausage, cooked and crumbled
Directions:
Preheat oven to 325 degrees F.
Coat the cake pan with cooking spray. Place croutons in the bottom of the pan and pour melted butter over them. Sprinkle the shredded cheese on top.
Mix milk, eggs and mustard together and then pour over cheese. Sprinkle crumbled bacon and sausage over all.
Bake for 55 minutes. Remove from oven and allow casserole to stand for at least 15 minutes before serving.
More breakfast recipes
5 Calcium-rich breakfast recipes for strong bones
5 Breakfast smoothies the family will love
Peanut butter and jelly pancakes