National Cherry Month: Beyond the pie
February is National Cherry Month. When it comes to cherries, we usually think of cherry pie. However, you can create a number of different kinds of delicious desserts with cherries. This month, make one of these yummy cherry cakes for your family.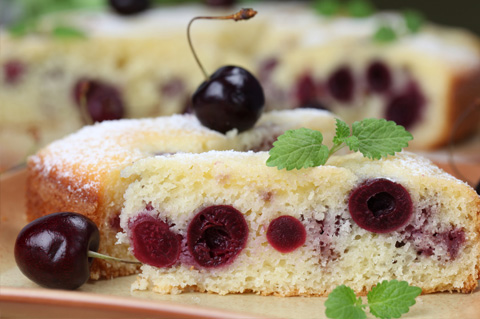 Simple cherry cake
Serves 12
Cherries take a basic yellow cake from ordinary to extraordinary. This cherry cake uses packaged cake mix, making it quick and easy.
Ingredients:
1 package yellow cake mix
Eggs and oil as directed on cake mix package
1/2 cup water
1 (20 ounce) can cherry pie filling
Powdered sugar
Directions:
Prepare the cake mix according to the package directions, using eggs and oil as specified, but reduce the water to just 1/2 cup.
Grease and flour a 13 x 9 x 2-inch baking pan. Spread the batter into the pan and then spoon the cherry filling over the batter evenly. Swirl the filling just a little bit to create a marbled effect in the batter.
Bake the cake at 350 degrees F for 55 minutes. Cake should bounce back when touched light.
Cool and then sprinkle with powdered sugar. Serve warm.
Mocha and cherry cake
Serves 14
Chocolate and cherries come together beautifully in the scrumptious cake. Though it contains a lot of ingredients, this cherry cake is still relatively easy to make. Recipe courtesy of BHG.com.
Ingredients:
Unsweetened cocoa powder
2 cups granulated sugar
1-3/4 cups all-purpose flour
3/4 cup unsweetened cocoa powder
2 teaspoons baking soda
1 teaspoon baking powder
1/2 teaspoon salt
2 eggs
1 cup buttermilk or sour milk*
1 cup strong brewed coffee, cooled
1/2 cup cooking oil
2 teaspoons vanilla
2-1/2 cups ricotta cheese
1/2 cup granulated sugar
1/2 cup miniature semisweet chocolate pieces
1/2 cup chopped maraschino cherries, well drained
2/3 cup butter
1/2 cup unsweetened cocoa powder
7-1/2 cups sifted powdered sugar
1/2 - 2/3 cup milk
2 teaspoons vanilla
Shaved semisweet chocolate, optional
Edible flower petals, optional
Directions:
Grease two 9 x 1-1/2-inch round baking pans. Sprinkle lightly with cocoa powder and set aside. In a very large mixing bowl combine the 2 cups granulated sugar, flour, 3/4 cup cocoa powder, baking soda, baking powder and salt. Add eggs, buttermilk, coffee, oil and 2 teaspoons vanilla. Beat with an electric mixer on low speed for 30 seconds until combined, then for 2 minutes on medium speed.
Pour batter into prepared pans. Bake in a 350 degree F oven for 25 to 30 minutes or until cakes test done. Cool on a rack for 10 minutes. Remove from pans. Cool completely. Split each cake horizontally to make four layers total.
For filling, combine the ricotta cheese, 1/2 cup granulated sugar and chocolate pieces. Gently stir in cherries. Place one cake layer on a serving plate. Spread 1/3 of the filling on the bottom layer of cake. Top with another cake layer. Continue layering the filling and cake, ending with cake.
For frosting, in a bowl beat butter until fluffy. Gradually add the 1/2 cup cocoa powder and half of the powdered sugar. Slowly beat in half of the milk and the remaining vanilla. Beat in remaining powdered sugar. Beat in additional milk until of spreading consistency. Frost cake. Garnish with shaved chocolate and edible flower petals, if desired.
Note: *If you don't have buttermilk on hand, substitute sour milk. For each cup of sour milk needed, place 1 tablespoon lemon juice or vinegar in a glass measuring cup. Add enough milk to make 1 cup total liquid and stir. Let the mixture stand for 5 minutes before using.
More cherry recipes
White chocolate cherry almond cookies
Cherry pie jubilation
Chocolate cherry squares