5 Fiber-high recipes for your kids
Children that grow up on white bread, white rice and too few fruits and vegetables grow up to be adults who eschew fiber, too. Aim to get 25 grams of fiber into your kiddo's diet every day. Here are five healthy recipes that will help your kids fall in love with fiber.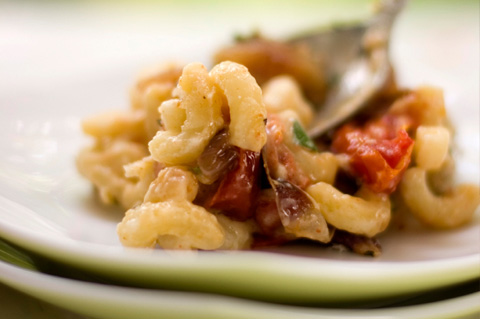 Quick tips on getting your kids to get more fiber
Eat your colors — turn every meal and snack into a rainbow of rich colors (and we aren't talking artificially colored fare). Focus on fruits and vegetables, which are loaded with fiber and other nutrients that are critical for your child's health.
Cook the right white foods — not every white food is devoid of fiber and nutrition. If your kids have a thing about eating white, put cauliflower, baked potatoes, bananas, jicama, parsnips, turnips and cherimoyas on their plate.
Go for whole grains — clear out the refined flour products, such as: sugary cereal, white bread and white rice. Replace them with whole grain products that have at least 3 grams of fiber per serving. In addition, incorporate oats, whole wheat flour, quinoa, brown rice and other whole grains into your family's everyday meals.
5 kid-friendly fiber-rich recipes
Fiber-high mac and cheese with sun-dried tomatoes
Serves 8
What kid doesn't love diving a fork into a bowl of macaroni and cheese? This fiber-rich rendition features whole wheat macaroni, sun-dried tomatoes and whole wheat bread crumb topping.
Ingredients:
1 (16-ounce) package Hodsgon Mill Whole Wheat Elbow Macaroni (or other whole wheat pasta)
1/3 cup dry whole wheat bread crumbs
2 tablespoons olive oil
3-1/2 cups low-fat 2 percent milk, divided
6 tablespoons white whole wheat flour
2 cups shredded cheddar cheese
2 cups shredded Monterrey Jack cheese
2 cups low-fat cottage cheese
1/2 teaspoon freshly grated nutmeg
1-1/2 cups chopped sun-dried tomatoes (drain well, if packed in oil)
Salt and freshly ground black pepper to taste
Directions:
Preheat oven to 400 degrees F and spray a 13x9-inch baking dish with cooking spray.
In a small bowl, toss together bread crumbs and oil.
Cook macaroni in a large pot of salted boiling water for about 2 minutes less than package directions. Drain in a colander.
Meanwhile, in a large saucepan over medium heat, heat milk to a simmer. In a small bowl, whisk together remaining milk and the flour until smooth. Whisk flour mixture into milk and continue to simmer, stirring, until mixture is thickened.
Remove saucepan from heat and stir in cheeses and nutmeg. Add macaroni to cheese mixture, stirring to coat. Stir in tomatoes and season with salt and pepper.
Transfer macaroni to prepared baking dish and sprinkle with bread crumb mixture.
Bake for 15 minutes or until bread crumb topping is lightly browned. Serve immediately.
Rainbow oatmeal
Serves 4
Kids are naturally drawn to colorful and interesting things, including food. Adding a medley of fruit to their hot cereal will give them a high-fiber oat-yummy way to start their day.
Ingredients:
2 cups rolled oats
3-1/2 cups water
Pinch of salt
Milk
1/4 cup packed brown sugar
1/2 cup diced mango
1/2 cup fresh strawberry slices
1/2 cup blueberries
1/4 dried currants
1/4 cup sliced almonds
Directions:
In a medium saucepan over medium-high heat, bring oats, water and salt to a boil.
Reduce heat and simmer, stirring occasionally, until the water is absorbed and the mixture is thickened.
Add milk to taste and stir in brown sugar. In a medium bowl, combine mango, strawberries, blueberries and currants.
Divide oatmeal into 4 bowls and top with fruit and scatter with almonds. Serve immediately.
Oat-rageous cinnamon brown sugar waffles
Yields 12
Adding oats to waffles boosts the fiber of this ever-popular breakfast dish. Serve with fruit and yogurt to add more fiber and protein. You can even batch cook this recipe and freeze waffles for quick and easy morning meals when you're in a rush (see Fix-and-freeze tips below). This make-ahead recipe and many others are featured in my cookbook Make Ahead Meals Made Healthy (Fairwind Press, July 2011).
Ingredients:
3/4 cup rolled oats
1-1/4 whole wheat flour
1 cup all purpose flour
3 tablespoons nonfat dry milk powder
1 teaspoon ground cinnamon
1/2 teaspoon ground allspice
1/4 cup packed brown sugar
1 teaspoon salt
1-1/2 tablespoons baking powder
1-1/2 tablespoons baking soda
2 eggs
2-1/4 cups buttermilk
3 tablespoons unsalted butter, melted
Directions:
Preheat waffle iron. Place oats in a food processor and pulse until coarsely ground. Add flours, milk powder, cinnamon, allspice, brown sugar, salt, baking powder and baking soda. Pulse until well-combined.
In a large bowl, whisk together eggs, buttermilk and butter until smooth. Add flour mixture and stir until well-combined.
Generously spray waffle iron with cooking spray. Pour about 1-1/2 cups batter (or however much your iron holds) into the center of the waffle iron. Close lid and cook until waffles are golden brown and cooked through.
Transfer to a plate to serve immediately or keep warm in a preheated 200 degrees F oven on a baking sheet.
Fix and freeze tip: If you want to make your very own frozen waffles, let waffles cool completely on wire racks. Place on a baking sheet in a single layer and place in the freezer until firm. Transfer to a large freezer bag, press out all the air and seal. When you're ready for breakfast, simply pop the waffles in the toaster just like you would the frozen waffles you buy in the box at the supermarket.
Veggie lover's thin crust pizza
Serves 6
Forget delivery pizza made with doughy white-flour crusts; simply bake your very own high-fiber thin crust pie piled high with veggies. You can certainly make your own whole wheat pizza dough or shave an hour off of your prep time by taking advantage of a store-bought whole wheat ready-to-bake pizza crust.
Ingredients:
1 (12-inch) Boboli 100% Whole Wheat Thin Pizza Crust
3/4 cup (more or less to taste) your favorite marinara sauce
3 tablespoons minced fresh basil or parsley
1 cup bite-sized broccoli florets, lightly steamed
1 cup roasted red peppers, sliced
1 cup sliced mushrooms
4 green onions, thinly sliced (green and white parts)
1-1/2 cups shredded cheese of your choice
Directions:
Preheat oven to 450 degrees F.
Spread marinara on pizza crust. Scatter basil or parsley over sauce.
Top with broccoli, peppers, mushrooms, and green onions. Evenly cover with cheese.
Bake on a baking sheet or pizza stone for 10 to 12 minutes or until cheese is bubbly and lightly browned.
Slice and serve.
Dried cherry and coconut bars
Yields 16
Instead of buying boxes of processed snacks, keep a ready supply of these nutrient-dense snack bars on hand. For a change, try different types of dried fruit and nuts.
Ingredients:
2 eggs
1/2 cup packed brown sugar
1/4 cup brown rice syrup
3 tablespoons coconut oil, melted
2 teaspoons Rodelle's Pure Vanilla Extract
1-1/2 cups white whole wheat flour
1 teaspoon baking soda
1/2 teaspoon salt
1 teaspoon ground cinnamon
1/2 teaspoon ground cloves
1-1/2 cups rolled oats, quinoa flakes, or spelt flakes
2/3 cups dried cherries
1/2 cup unsweetened shredded coconut
Directions:
Preheat oven to 350 degrees F and spray a 13x9-inch baking dish with cooking spray.
In the bowl of a standup mixer fitted with the paddle attachment, combine eggs, brown rice syrup and oil. Blend on medium until smooth.
In a medium bowl, whisk together flour, baking soda, salt, cinnamon and cloves. Add flour mixture to the egg mixture and blend on low until moistened.
Add oats, dried cherries, coconut and blend until just incorporated. Transfer mixture to the prepared baking dish and spread or press until evenly distributed.
Bake for 25 minutes or until lightly browned. Let cool for 10 minutes in the pan. Invert onto a cutting board and cut into 16 bars.
Serve immediately or let bars cool completely and store in an airtight container. You can also wrap each completely cooled bar in plastic wrap to pack in lunches or take on the go.