Valentine's Day: Healthy ways to feed your husband
Do you and your hubby really want to sit through a noisy expensive restaurant dinner for Valentine's Day? Not only does the unrelaxed ambiance leave something to be desired, most restaurant meals are heaving with sodium, calories and fat. Instead of overloading your heart with heavy dining fare – and draining the life out of your checkbook – stay home and stir up love with a healthy meal. You'll love feeding each other these four delicious superfood-packed Valentine's Day recipes.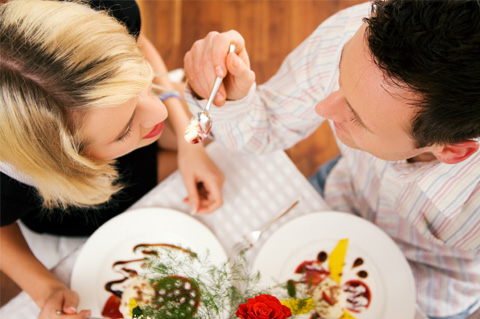 Mango Champagne
Serves 2
Sip a little bubbly on this romantic occasion as a prelude to the mouthwatering meal to come. Adding mango to Champagne or sparkling white wine is a sweet way to add fiber and antioxidants to your evening.
Ingredients:
1 small ripe mango, pitted, peeled, cut lengthwise into thick strips, divided
8 ounces Champagne or sparkling white wine
Directions:
Place one to two strips of mango into each of the two Champagne flutes.
Pour Champagne or wine into glasses.
Set the remaining mango on a small plate to nibble while you're enjoying your bubbly.
Broccoli salad with roasted peppers, green onions and sesame seeds
Serves 2
Broccoli and peppers are packed with heart-healthy and cancer-fighting antioxidants and fiber. Sesame seeds are loaded with healthy fats. Every yummy forkful of this salad is a boost for your health.
Ingredients:
1 head broccoli, cut into florets, lightly steamed until tender
1/2 cup roasted red pepper strips, finely chopped
1 green onion, thinly sliced (green and white parts)
2 tablespoons Asian salad dressing, such as San J Tamari Sesame Salad Dressing
3 tablespoons toasted sesame seeds
Directions:
Combine broccoli, pepper and green onions in a medium bowl.
Drizzle with dressing, tossing to coat. Refrigerate to serve as a chilled salad or serve at room temperature.
Serve garnished with sesame seeds.
Succulent salmon with coconut cashew sauce
Serves 2
Salmon, coconut milk and cashews are teeming with luscious heart-healthy fats. This simple to prep Valentine's Day dinner recipe is so good, you may just want to include it on your everyday meal planning.
Ingredients:
2 tablespoons tamari
Zest and juice 2 limes, divided
1 garlic clove, minced
2 tablespoons minced fresh cilantro, plus more for garnish
2 (5-ounce) boneless, skinless salmon fillets
3 tablespoons sweet chili sauce
1 cup coconut milk
1/2 cup chopped raw cashews, divided
4 ounces angel hair pasta, cooked al dente, according to package directions
Directions:
In a small shallow dish, whisk together tamari, 1 tablespoon of lime zest, 2 tablespoons of lime juice, garlic and cilantro. Coat salmon on both sides with tamari mixture, cover dish and set aside to marinate for 30 minutes, turning the salmon once or twice.
Preheat the broiler or the grill to high.
In a small saucepan set over medium-high heat, combine chile sauce, coconut milk and remaining lime zest and juice. Add a pinch of salt and a few grinds of black pepper. Bring to a boil, reduce heat to low and stir in 1/3 cup cashews. Simmer while you prepare the fish.
Oil a roasting pan, if broiling, or oil the grill grate, if grilling. Remove salmon from dish and place on the roasting pan or grill. Cook salmon for 5 minutes, flip and continue to cook for 3 to 5 minutes or until cooked through and fish flakes when pressed with the back of fork.
Divide angel hair pasta between two plates. Set salmon on top of the pasta. Spoon coconut sauce over the salmon. Garnish with cilantro and cashews.
Blueberry thyme trifles
Serves 2
Blueberries are one of the tastiest and abundant sources for antioxidants. Pile them into a dessert bowl with low-fat angel food cake and protein-rich Greek yogurt for a scrumptious heart-healthy treat.
Ingredients:
2 cups fresh or frozen blueberries (thawed)
1 teaspoon minced thyme leaves
Honey, agave or other sweetener to taste (optional)
1 cup honey-flavored or vanilla Greek-style yogurt
1 cup bite-sized cubes of angel food cake
Directions:
In a small bowl, combine blueberries, thyme and sweetener, if using.
Place 2 to 3 tablespoons blueberries in the bottom of 2 clear dessert dishes.
Top with 2 to 3 tablespoons yogurt and a few cubes of angel food cake and another layer of yogurt.
Repeat layers starting with blueberries. End with a layer of yogurt sprinkled with a few blueberries.
Refrigerate until ready to serve.
---
More From SheKnows Explorer
---
---