10 Foods your kids should be eating
Do you cringe when your children tell you about the junk they ate at a friend's house or during lunch at school? You can't control every food your kiddos eat, but you can make sure that super foods are on the menu when you are making the meals. Feeding your family a diet rich in fruits, vegetables, whole grains, lean proteins and healthy fats is one of the best ways to promote your children's development, boost their mood and help them maintain a healthy weight. Here are 10 nutrient-packed foods your kids should be eating.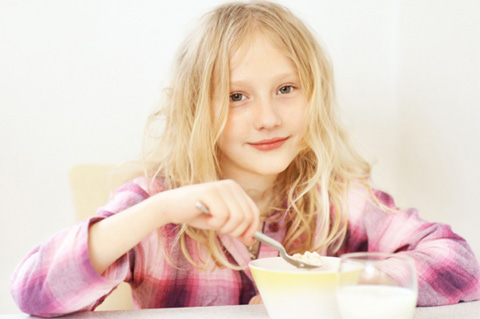 Oatmeal
Easy for Mom to make and a kid-friendly breakfast with staying power, oatmeal is a versatile whole grain packed with fiber and protein, which keeps your kiddos full significantly longer than a bowl of sugary puffs. Bypass the instant oatmeal for rolled oats (which boast more nutrition than their refined counterparts) and stir in low-fat milk, nuts, fruit for variety and to add more protein, fiber and phytonutrients, to every bowl.
Eggs
Eggs are nature's perfect protein, providing the building blocks for strong muscles and delivering a delicious host of health-promoting nutrients, including choline, lutein and zeaxanthin. Choline is important for brain development while lutein and zeaxanthin are associated with vision health. Send your kids off in the morning with a scrambled egg breakfast burrito or give them egg-salad sandwiches for lunch. Hard-cooked eggs are also a healthy and fun snack. After all, what kid doesn't like cracking and peeling off the shell?
Sweet potatoes
Not only are these antioxidant-rich root vegetables simply delicious, sweet potatoes are packed with fiber, vitamins A and C, protein, iron, potassium and even calcium. Cut sweet potatoes into strips and make oven fries or serve mashed sweet potatoes as a healthy alternative to white potatoes. Add diced sweet potato to soups and stews and blend cooked peeled sweet potato into smoothies. You can even surprise your family with sweet potato pie instead of cookies, cake and ice cream for dessert.
Broccoli
Broccoli is another antioxidant-rich veggie that is low in calories, high in fiber and part of the cancer-fighting cruciferous family of vegetables -- which also includes cauliflower, cabbage and Brussels sprouts. Serve lightly steamed or roasted broccoli trees sprinkled with shredded cheese, as a fun and healthy side-dish or snack. Add chopped broccoli to casseroles, pasta, rice or scrambles. You can also make the crucifer a star ingredient in veggie stir-fries.
Spinach
Dark leafy greens are one of the most concentrated sources of phytonutrients, delivering a tasty bevy of health benefits to your family's diet for very little calories. Though all dark leafies are nutritionally invaluable, spinach is especially easy to incorporate into your meals. It can be added to smoothies along with fruit for a healthy green drink, stirred into egg scrambles, layered on sandwiches in place of lettuce, simmered into soups and stews, and tossed in green salads along with other nutrient-dense veggies.
Blueberries
A kid-friendly favorite, blueberries are bursting with vitamins, minerals and antioxidants that can fight cancer and heart disease, boost brain health and (because they are low in calories) can help with weight control. Blueberries may be a popular smoothie ingredient, but they can also be tossed onto cold or hot cereal, stirred into pancake or muffin batter, added to salads and even simmered into a sweet sauce for desserts.
Avocados
Technically a fruit, rich-flavored avocados are loaded with heart-healthy fats and fiber as well as cancer-fighting antioxidants. The fat and fiber in this luscious food keep blood sugar levels on an even keel. Avocados can be added to smoothies (yes, smoothies!) as well as tossed in fruit, green and grain salads. Slice avocado, drizzle with some lime juice, honey and serve as a snack or side dish.
Greek yogurt
Creamy, dreamy Greek yogurt is a delicious source of protein, calcium and probiotics. Calcium is vital for strong bones and teeth while probiotics (found in yogurt made with live active cultures) can boost your children's immunity and promote digestive health. Stir fresh fruit and honey or agave into yogurt for a healthy breakfast or snack. Swap out sour cream for yogurt and use it in place of oil called for in baked goods.
Salmon
Buttery-rich in flavor, salmon is swimming with omega-3s, which are healthy fats associated with heart and brain health. Two servings of salmon a week can also bolster your children's immune system and improve their mood. Salmon is an excellent source of protein, which will benefit growing muscles and even help with weight control. Add cooked salmon to egg scrambles, toss it with whole wheat pasta or brown rice, or serve it as a main dish. You can also swap out canned tuna with canned (or fresh cooked) salmon.
Cocoa
Satisfy your family's sweet tooth with an antioxidant-dense chocolatey treat. Research suggests that cocoa consumption can boost heart health by reducing blood pressure and LDL (bad) cholesterol, reduce the risk of diabetes and may even help with weight management. Unsweetened cocoa powder can be sprinkled on oatmeal, stirred into a smoothie or cup of hot chocolate, added to pancakes and incorporated into baked goods, such as: muffins, quick breads, cakes and cookies.
---
More From SheKnows Explorer
---
---