5 Calcium-rich breakfast recipes for strong bones
Did you know calcium is the most abundant mineral in the human body? Nearly 100 percent of the mineral is stored in our bones and teeth. Though adequate calcium is crucial for bone health, it is also vital for heart health, may combat cancer, can ward off PMS and even help with weight control. Your kids need it for their growing bodies and you need it to fend off osteoporosis. Dairy is an excellent source of calcium but there is a delicious selection of non-dairy foods that also supply the bone-building mineral. Here are five of ChefMom's favorite calcium-rich breakfast recipes to start your family's day with a healthy meal.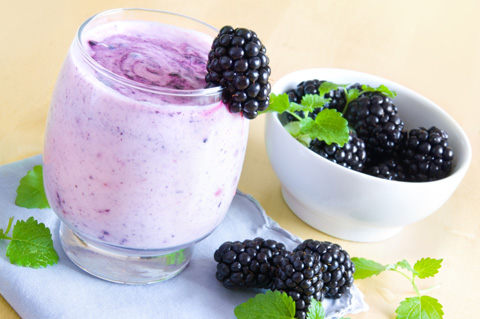 Blackberry cheesecake smoothie
Serves 2
This is a calcium-rich recipe that will get your family's full attention in the morning -- it tastes more like a dessert than a healthy breakfast drink. Greek yogurt and milk are chockfull of calcium but even the blackberries lend a bone-building boost.
Ingredients:
2 cups vanilla Greek yogurt
2 cups blackberries (fresh or frozen, thawed)
1/2 cup milk or more for desired consistency
2 tablespoons honey or more to taste
Directions:
Place all ingredients in a blender and purée, adjusting for consistency and taste. Serve garnished with extra blackberries, if desired.
Toasted almond date muffins
Serves 12
Though dairy is a well-known source of calcium, dates and almonds are also tasty sources of the health-promoting mineral. The addition of vanilla or honey yogurt and dates give these moist muffins sweet kid-friendly appeal.
Ingredients:
2 cups all purpose flour
1/4 cup sugar
1 teaspoon baking powder
1/2 teaspoon baking soda
1/2 teaspoon salt
1 teaspoon ground cinnamon
1 egg
2 tablespoons coconut oil
1-1/2 cups vanilla or honey Greek yogurt
1/2 cup sliced almonds, lightly toasted in a dry skillet
1/2 cup chopped dates
Directions:
Preheat oven to 400 degrees F and grease a standard muffin pan.
In a large bowl, whisk together flour, sugar, baking powder, baking soda, salt and cinnamon.
In a medium bowl, whisk together egg, oil, and yogurt. Add egg mixture to flour mixture and stir just until moistened.
Stir the almonds and dates into the batter. Spoon batter into the muffin pan.
Bake 20-25 minutes or until muffins are lightly browned and bounce pack when pressed.
Transfer pan to a wire rack and allow muffins to cool in the pan for 10 minutes before removing them.
Banana cocoa nib breakfast cake
Soy milk and soy flour give this healthy breakfast cake the most bone-boosting power, but even eggs, honey, walnuts and flax are a tasty source of calcium.
Ingredients:
1 cup white whole wheat flour
1/2 cup soy flour
1/2 cup ground flaxseed
2 teaspoons baking soda
1 teaspoon baking powder
Generous pinch of salt
1 teaspoon Chinese 5-spice powder
1/2 cup plain soy milk
1/3 cup honey
1 egg, beaten
1 tablespoon pure vanilla extract
3 very ripe bananas, mashed
2/3 cup cocoa nibs
1/3 cup firmly packed brown sugar
3 tablespoons unsalted butter, softened at room temperature
1/2 cup chopped walnuts
Directions:
Preheat oven to 350 degrees F and grease an 8-inch square baking dish.
In a large bowl, whisk together the flours, flax, baking soda, baking powder, salt and 5-spice powder.
In a medium bowl, whisk together milk, honey, egg, vanilla and bananas. Combine the milk mixture with the flour mixture until combined. Stir in cocoa nibs.
Pour batter into the prepared baking dish.
In a small bowl, combine brown sugar, butter and walnuts, mixing until crumbly. Sprinkle evenly over the batter.
Bake cake for 30-35 minutes, or until a toothpick inserted in the center of the cake comes out clean. Cool in the pan on a wire rack for 10 minutes. Slice and serve warm.
Salmon Gruyère omelet
Serves 2
Fresh is usually best when it comes to ingredients, but canned salmon (with bones) contains more calcium than its fresh or frozen counterpart. Cheese, milk, watercress and eggs also add calcium to this hearty, healthy morning meal.
Ingredients:
1/2 cup watercress leaves, chopped
1/4 cup shredded Gruyère cheese
3 ounces canned salmon packed with bones
4 eggs
1/4 cup milk
Salt and freshly ground black pepper to taste
Directions:
In a small bowl, combine watercress, cheese and salmon.
In a medium bowl, whisk together eggs and milk. Season with salt and pepper.
Place a medium skillet over medium heat-high. Spray skillet with cooking spray. Pour in egg mixture and cook for 1 minute or until set (about 1 minute). Use a spatula to lift around edges to loosen from the pan.
Sprinkle salmon mixture over half of the omelet. Fold over the other half of the omelet. Cover pan and remove from heat. Let sit for 1-2 minutes to heat salmon mixture through.
Slide omelet onto a serving plate. Cut in half and serve.
Molasses fig breakfast bars
For those ultra-busy mornings, these grab-and-go fig bars are a quick nibble that will settle the tummy grumbles until you have your mid-morning snack. Blackstrap molasses, figs, soy, orange juice and almonds give this dairy-free recipe a yummy dose of calcium and the coconut oil helps enhance the absorption of the important mineral.
Ingredients:
32 dried Calimyrna figs, stems removed
1-1/2 cups calcium-fortified orange juice
3/4 cup white whole wheat flour
3/4 cup soy flour
1/2 cup rolled oats, finely ground in a blender or food processor
2 tablespoons almond meal
1/2 teaspoon baking soda
Pinch of salt
1/4 cup coconut oil, warmed
1/4 cup blackstrap molasses
2 tablespoons honey
1/4 cup plain soy milk
Directions:
Preheat oven to 350 degrees F and lightly grease an 8-inch square baking dish.
Combine figs and apple juice in a medium saucepan over high heat. Bring to a boil, cover pan and reduce heat to low. Simmer for 5-6 minutes. Remove from heat and set aside to cool slightly.
Use a slotted spoon to transfer figs to a blender along with 1/3 cup of the apple juice. Purée into a spreadable paste.
In a medium bowl, whisk together flours, oats, almond meal, baking soda and salt.
In a small bowl, whisk together coconut oil, molasses, honey and soy milk. Add molasses mixture to flour mixture and stir to combine.
Spread half of the flour mixture evenly on the bottom of the prepared baking dish. Spread fig mixture overtop. Top with the remaining flour mixture.
Bake for 18-20 minutes, or until lightly browned. Transfer to a wire rack to cool completely. Cut into bars and store completely cooled bars in an airtight container.