How to create the ultimate chili bar for your Super Bowl 2012 party
Chili is the quintessential Super Bowl dish to serve. Make yours extra special with a fabulous chili bar filled with toppings and mix-ins that kids and adults alike will enjoy.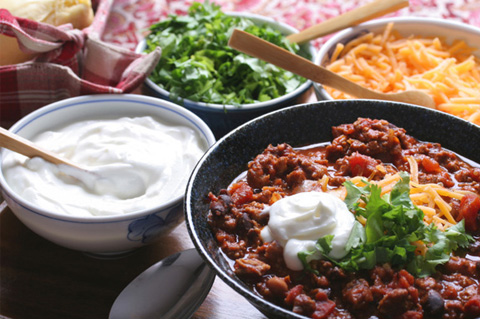 The New York Giants are set to take on the New England Patriots on February 5 in the ultimate clash in football -- the Super Bowl. What will you be serving? (It's the food that really matters, isn't it?) Well, the food and the commercials.
We vote for chili, which is a classic football game day food and one that can make for an awesome Super Bowl party. Take yours a step further by creating an ultimate chili bar for Super Bowl 2012 party fun, no matter who you're rooting for. Here's how you can plan your ultimate chili bar with ease.
Toppings talk
When you are putting together the ultimate chili bar for the Super Bowl, it's not just about the chili (though having a killer chili recipe is important). The toppings matter a lot too. Aim for a selection for all tastes -- including crunchy ones, tortillas or corn chips, for instance, low-fat and full-fat ones, like cheese or sour cream and low-calorie additions, like sweet corn, tomatoes and diced onions.
"Think about toppings that will do double duty for leftovers. Assorted cheeses and a spicy chorizos make great toppings, but will also make a delicious quesadilla the next day," says food writer, Cate O'Malley, who blogs at Sweetnicks.com.
Make it kid-friendly
O'Malley, a mom of two, says that it's okay to make chili on the spicy side even when kids are around as long as you serve it with the right additions. "If your chili is spicy, consider having a bowl of white rice, so the kiddos in attendance can balance out the heat," says O'Malley.
You could also serve a mild chili and offer spicy additions for grown-ups like chopped chipotle chiles, chile powders and hot sauce. Or, serve a choice of mild or spicy chili to make everyone happy.
Cut the dishes
Food writer Maris Callahan suggests a "keep it simple" approach to serving chili from the toppings to the ways you serve it. In particular, she aims for easy cleanup. "You can do crock pots of chili for quick clean up. That way you have fewer dishes to deal with after the party," says Callahan.
Be unexpected
Callahan also suggests that there are some really cool ways to serve chili beyond the standard cornbread and topping treatment. You could also put over salad -- like taco salad, but with chili instead," says Callahan, who had it that way at a party. You can also serve it over baked potatoes with toppings.