Low-sugar food options for kids
Did you know that preschool-aged children max out their daily sugar intake once they consume a total of four teaspoons? Keep these low sugar food tips and healthier alternatives in mind to reduce your child's sugar intake.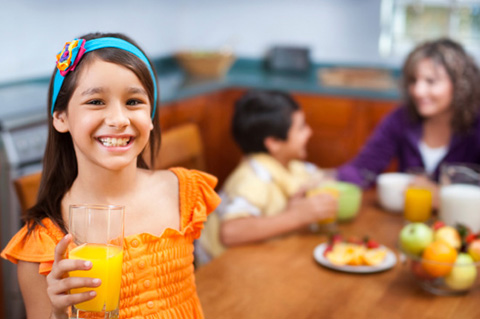 Recommended sugar intake for children
The American Heart Association has specific guidelines set to limit the amount of added sugar in a child's diet. In association with these limits, the AHA has found that increased sugar consumption in both children and adults leads to a number of health problems including high blood pressure, tooth decay and obesity.
These AHA guidelines are considered an acceptable amount of sugar for children in order to maintain a healthy diet.
Preschoolers shouldn't consume more than 20 grams (4 teaspoons) of added sugar each day.
Children 4-8 years old shouldn't consume more than 15 grams (3 teaspoons) of added sugar each day.
Tweens shouldn't consume more than 25 grams (5+ teaspoons) of added sugar each day.
Check nutritional information
Look at the nutritional labels on the every day foods that your child consumes. You might be shocked to find that most children max out their additional sugar intake with just one or two bowls of cereal in the morning. Not only does the sugar adversely affect health, a child starting the day off with a high dose of sugar can cause over activity, problems focusing and other problems. When looking at labels, keep in mind that there are other names for sugar, including: glucose, sucrose, fructose, maltose, corn syrup, high fructose corn syrup and honey.
How much sugar?
When looking at the nutritional labels, condition your children and yourself to reach for the foods that contain the lowest amounts of sugar.
High amount of sugar: Anything over 15 grams
Medium amount of sugar: Anything between 5 grams and 15 grams
Low amount of sugar: 5 grams of sugar or less
Just to give you an idea, here are some examples of common snacks and drinks for young children that contain high amount of added sugar.
Most granola bars contain 22 grams of sugar, 20 grams are added sugars.
Fruit punch contains 12 grams of sugar, 5 grams are added sugars.
Yogurt with fruit or fruit flavors contains 18 grams of sugar, 11 grams are added sugars.
Instead, give your kids these low-sugar foods and drinks options.
Rice cakes
Low-fat crackers
Pretzels
Baked chips
Trail mix or unsalted nuts
Air popped popcorn
Frozen fresh fruit bars or homemade fruit pops
String cheese
Fruit smoothies
Skim or low-fat milk (after the age of two)
Low-sugar, no sugar added or fresh squeezed juices
Sugar-free sodas in moderation (for older children)
Water infused with fresh fruit
Tip: Start with watered down low-sugar or no sugar juices for young children to keep them away from the addicting taste of sugary liquids.
One of the best ways to cut out additional sugars is to reduce the amount of processed foods that your child consumes. In additional to cutting or limiting processed foods, it is best to eat fresh fruit, fresh vegetables, low-fat dairy, whole wheat as well as foods and drinks labeled sugar-free or low sugar.
More information about sugar
Why you need to get off the sugar
Natural sweeteners are a better choice
What to avoid in a fruit snack