Delicious holiday beverages for kids
Whether you're sitting around the family table at Christmas dinner or hosting a kid-friendly holiday party, your kids will love having these tasty sips available to them.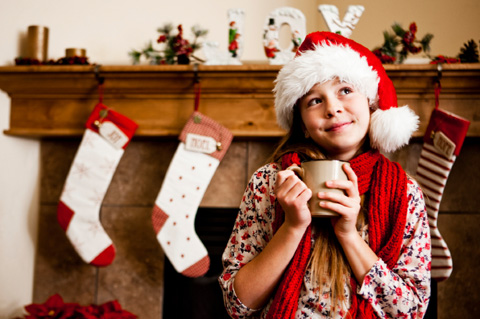 PomOrangeBlue sparkler
Serving size 4
This delicious blend of fruit juices is a favorite amongst children. It also makes a great mocktail for expectant mothers during the holidays.
Ingredients:
12 ounces pomegranate juice
12 ounces sparkling apple juice 
6 ounces orange juice, pulp-free
1 cup frozen blueberries
Directions:
Combine pomegranate juice, sparkling apple cider and orange juice.
Pour into punch bowl or individual cups, add blueberries.
Orange delight
Serving size 1
This orange blended beverage for kids taste just like the popular orange Popsicle. Kids and parents love this one!
Ingredients:
4 ounces milk
3 ounces orange juice 
3 ounces orange sherbet 
3 ounces vanilla yogurt 
1 tablespoon raw sugar 
2 ounces ice
Directions:
Blend all ingredients until smooth.
Oreo dream shake
Serving size 1
Combine desert and a serving of milk into this fun and delicious holiday beverage for kids. Substitute peppermint Oreos to make a festive version of this shake.
Ingredients:
5 ounces milk
6 ounces vanilla yogurt 
2 Oreo cookies 
1 tablespoon raw sugar 
2 ounces ice
Directions:
Blend all ingredients until smooth.
Eggnog
Eggnog is a favorite holiday drink for both children and adults. Add a pinch of cocoa powder, powdered sugar or cinnamon to the top and serve in your child's favorite Christmas mug.
Chilled peppermint chocolate milk
Sweeten up your kids' milk cup with some chocolate and festive peppermint flavors. Use the Ultimate hot cocoa recipe to make a quick cup of cocoa, then drop in some ice cubes to make the temperature more appealing to your child. This recipe also tastes delicious when added to mom or dad's morning espresso.
More Christmas fun for kids
Holiday kitchen crafts for kids
Holiday gifts: Let your kids play with their food
Holiday activity: Cookie decorating with kids