Christmas morning breakfast recipes for kids
Make Christmas morning even more special by preparing a delicious and sweet breakfast for your family. Your children will love these new, tasty menu choices.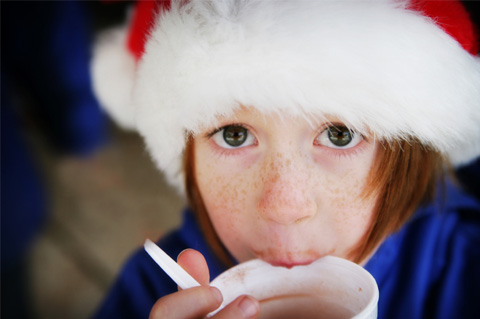 Delicious hot cocoa
Serving size 4
Mix up this sweet morning beverage for your kids on Christmas morning instead of the same old plain milk. Garnish the glass with an unwrapped candy cane for an extra special treat.
Ingredients:
1/3 cup unsweetened cocoa powder
1 teaspoon vanilla extract
1/2 cup sugar
1/4 teaspoon of salt
1/2 cup water
3-1/2 cup milk 
Directions:
In a medium saucepan, mix cocoa, sugar and salt.
In a small saucepan, heat water to a low boil.
Add boiling water to the medium saucepan and bring to a boil, stirring frequently. 
Reduce heat and stir for 2 minutes. 
Stir in milk and heat for 1 minute.
Remove from heat, add vanilla, stir.
Pour into mugs. 
Add cream and serve.
Eggnog French toast
Serving size 6
Make a special kind of French toast on Christmas morning. Garnish the plates with fresh strawberries and a few drops of chocolate syrup to make this French toast not only taste delicious but look amazing, too.
Ingredients:
2 eggs, beaten
1-1/2 cups eggnog 
1 tablespoons ground cinnamon 
1 teaspoon sugar 
1 teaspoon ground nutmeg 
1 teaspoon pumpkin spice 
12 slices French or sandwich bread
Directions:
Preheat lightly greased skillet to 300 degrees F.
In a small mixing bowl, whisk eggs, eggnog, cinnamon, sugar, nutmeg and pumpkin spice. 
Pour mixture into a shallow dish. 
Dip each slice of bread into mixture, coating each side. 
Place each slice on the skillet, turning once, until golden brown on each side.
Cranberry pumpkin bread
Yields 2 loaves
Cranberries and pumpkins are not just for Christmas dinner. Bake a loaf of this delicious bread for your family and make a second one as a gift.
Ingredients:
2 large eggs
1/3 cup applesauce
3/4 teaspoon salt
2 cups brown sugar
3-1/2 cups all-purpose flour
2 teaspoons baking soda 
1 teaspoon baking powder 
2 teaspoons ground cinnamon 
1/2 teaspoon ground cloves 
1 (16 ounce) can cranberry sauce 
1 (15 ounce) can pumpkin
1 tablespoon orange zest (grated) 
Directions:
Preheat oven to 350 degrees F.
Coat two 8 x 4-inch loaf baking pans with non-stick cooking spray. 
In a large bowl, mix flour, brown sugar, ground cinnamon, ground cloves, baking soda, baking powder and salt.
In medium bowl, mix eggs, cranberry sauce, pumpkin, applesauce and orange zest. 
Combine both mixtures. 
Pour into loaf baking pans.
Bake for 60 to 65 minutes.