Holiday gifts: Let your kids play with their food
These holiday gifts are sure to spark interesting conversations, inspire creativity and encourage positive family time around the dinner table. Let your children play with their food and join in the fun!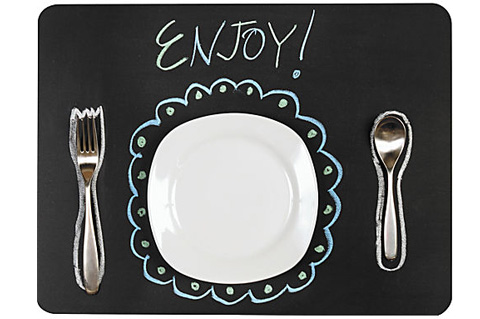 Drawing at the table
The Chalk-a-Doodle Chalkboard Placemat ($16) is a great dinnertime activity for kids -- and parents. While setting the table, leave a special message for your child or let them draw while waiting for everyone to finish their meal. The best part is that it comes with colorless, dustless chalk and a recycled felt eraser. Don't worry, mom! There won't be any chalk dust in the chicken!
Allow your kids to doodle and draw at the table with the Doodles at Dinner Coloring Placemats ($10). Enjoy watching your children while they use their imagination to create drawings with this interactive book. Bound like an art pad, this doodle pad includes a collection of removable placements complete with step-by-step doodle instructions. The set travels extremely well and is great for eating out at restaurants, too.
Family games
Strike up family-friendly conversations with the Table Topics: Family edition game ($25). Get your children thinking and talking with questions like, "Which famous athlete would you love to meet?" You never know, you might learn something new about your children while encouraging positive family time around the table.
Playing with your food
Are you strict about manners at the dinner table? Then, surprise your kids with these Silly Straw Glasses ($4). They will automatically think that you're the coolest mom ever if you place a set of these on their dinner plate. Laugh and watch as your child's drink twist and twirls through these tubular glasses -- then join in the fun! These make great stocking stuffers or act as a fun surprise for a Christmas morning breakfast.
Make healthy eating fun with the Construction Plate and Utensils ($15-$18). Every meal becomes a construction site for little hands while peas, corn and other small vegetables get plowed onto a spoon and into your child's mouth. Designed with function and play in mind, your child will learn to clean the "construction zone" at every meal.
Kids will love to harvest their food with the colorful Garden Plate and Utensils ($15-$18). The garden plate is divided into sections to help your little one hoe, rake and shovel food straight into his or her mouth.
Decorate the Mr. Food Face Plate ($12) for some laughter and mealtime fun. Enjoy watching your child as he or she created a beard out of noodles, ears out of broccoli and hair out of strips of chicken or surprise your child with a silly face full of yummy food.
More mealtime fun
Fun themes for family dinnertime
3 Special ideas for family dinners
How to paint your kitchen table