Thanksgiving recipes the kids can make
Make this year's Thanksgiving feast a creative affair by involving your kids in the holiday meal prep. Since roasting a turkey or chopping vegetables is too advanced for little hands, here are three kid-appropriate Thanksgiving recipes that are not only easy to make, they are also fun to eat.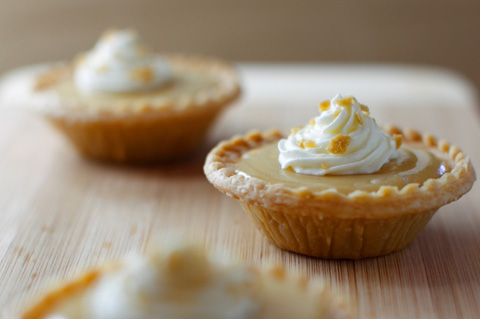 Pumpkin cups
Serving size 24
Tart shells become crisp cups for pumpkin filling and whipped cream.
Ingredients:
24 tart shells
1 (15 ounce) can pumpkin
1 cup honey-flavored greek yogurt
1-1/2 teaspoons pumpkin pie spice
1-1/2 cups whipped cream
Directions:
Preheat oven to 350 degrees F. and spray 2 muffin pans with cooking spray.
Let your kids press a wonton wrapper into each muffin cup. Spray with cooking spray. Bake for 5 to 7 minutes or until wonton wrappers are crisp and lightly browned. Transfer to a wire rack to cool.
In a large mixing bowl, beat or whisk pumpkin, yogurt and pumpkin pie spice together until well-blended.
Place the wonton cups on a serving platter. Let the kids fill each cup with the pumpkin mixture, top with a dollop of whipped cream and sprinkle with grated chocolate if desired. Serve immediately.
Turkey-shaped cheese ball with vegetable skewers
Serving size 12 to 16
Softened cream cheese can be transformed into a turkey adorned with vegetable skewers for its tail. This kid-friendly edible work of art is a Thanksgiving appetizer that will get lots of attention and rave reviews.
Ingredients:
3 (8 ounce) packages cream cheese, softened at room temperature
1 cup shredded sharp cheddar cheese
1/4 cup sour cream
1/2 teaspoon garlic salt
2 red bell peppers, halved, seeded
1 yellow bell pepper, halved, seeded
1 red onion, halved, cut into 1/2-inch squares
1 pint grape tomatoes
1 cup coarsely chopped flat-leaf parsley
2 large pitted black olives
Assorted crackers
Directions:
Let your kids place cream cheese, cheddar, sour cream and garlic salt in the bowl of a stand-up mixer fitted with the paddle attachment. Blend on medium-speed, stopping to scrape the bowl occasionally, until well-blended.
Cover mixer bowl with plastic and refrigerate for 2 hours or until firm.
Meanwhile, cut each red bell pepper half into the foot of a turkey. Save the extra bell pepper pieces for the skewers. Cut the remaining red bell pepper and the yellow bell pepper into 1-inch squares. Cut 1 of the yellow squares into a triangle for a beak and a red square into a triangle for the snood (the skin above the beak).
Let your kids thread bell pepper, red onion and tomatoes onto bamboo skewers, leaving the bottom one-third of each skewer clean. Refrigerate until read to serve.
Transfer cream cheese mixture to a serving plate and let your kids shape the cheese mixture into a large ball, for the turkey body and a small ball, for the head. Attach the head to the body using a Popsicle stick.
Let the kids press parsley all over the turkey and press the olives onto the turkey head for eyes. Insert the yellow bell pepper triangle into the face of the turkey for the beak then press the red bell pepper triangle alongside the beak, for the snood.
Help the kids insert the vegetables skewers into the back of the turkey to represent it's tail feathers. Set the red bell pepper feet at the front of the turkey.
Serve the turkey with crackers.
Gobble gobble chocolate peanut butter cupcakes
Serving size 24
If you've got a boxed chocolate cake mix, frosting and peanut butter sandwich cookies on hand, your kids have the makings for these Thanksgiving-themed cupcakes.
Ingredients:
1 (18 ounce) box devil's food cake mix
1 (16 ounce) can chocolate frosting
24 Nutter Butter cookies
1 tube white decorator's gel
1 tube yellow decorator's gel
1 tube red decorator's gel
48 mini chocolate chips
Directions:
Line 2 muffin pans with cupcake liners and spray the inside of the liners with cooking spray.
Help your kids prepare cake mix to make 24 cupcakes, according to package directions. Let cupcakes cool on a wire rack.
Let your kids frost the cupcakes with the chocolate frosting and stick a Nutter Butter, vertically, into each cupcake.
Help the kids place 2 dots of white gel onto each cookie to make eyes, a yellow triangle for a beak, and a long red oval by the beak for the snood. Then stick a mini chocolate chip into each white eye to make pupils.