Healthy Halloween desserts
Halloween candy is only the start of the avalanche of high-calorie, sugar-rich desserts the holiday season brings. Sure, you can overindulge with the belief you'll get back on the healthy eating wagon as soon as all the candy is gone, or you can save yourself the extra hours at the gym, the boring diet and stretchy waist-banded pants by starting the holiday season with these healthy Halloween desserts. Lower in calories, packed with nutrition and sweet-tooth satisfying, these yummy treats are good for you and good to eat.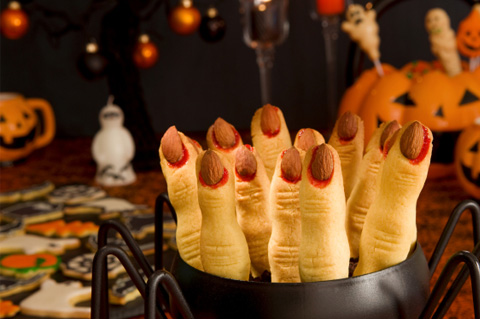 Spicy nutty pumpkin pudding
Serving size 8
This pudding is a trick and a treat. Instead of making pudding from a sugar-heavy, additive-laden box mix, this mock pudding combines high-protein Greek yogurt (that alone tastes like dessert) and low-calorie, antioxidant-rich pumpkin purée for a deceivingly decadent Halloween dessert.
Ingredients:
Directions:
In a food processor, combine yogurt, pumpkin and pumpkin pie spice. Blend on high until puréed and lightened in texture.
Transfer pudding to dessert cups and garnish with pecans.
Chocolate hazelnut biscotti fingers
Serving size 20
These crisp whole wheat cookies are delish dipped in a coffee (or espresso-based cocktail) and as an added bonus... look like creepy fingers. The only fat in this biscotti recipe is from high-protein eggs and heart-healthy dark chocolate with hazelnuts.
Ingredients:
1-1/2 cups whole wheat pastry flour
2/3 cup sugar
1/2 cup cocoa powder
1-1/2 tablespoons instant espresso powder
1 teaspoon baking soda
1/4 teaspoon salt
2 eggs
2 egg whites
1 tablespoon pure vanilla extract
1/2 cup finely chopped dark chocolate (and more for drizzling or dipping biscotti, if desired)
1/3 cup toasted, chopped hazelnuts
Directions:
Preheat oven to 300 degrees F. and line a large baking sheet with parchment paper.
In a large bowl, whisk together flour, sugar, cocoa, espresso, baking soda and salt.
In a medium bowl, whisk together eggs and egg whites until light. Whisk in vanilla.
Add eggs to the flour mixture and use a wooden spoon to mix thoroughly until a stiff dough forms. Mix in chocolate and hazelnuts.
On a floured surface, divide dough into 2 equal portions and roll each into an evenly-thick foot-long log. Press each log down with the palm of your hand until they are about 3 inches wide.
Transfer logs to the prepared baking sheet, spacing them about 2 inches apart. Bake for 40 minutes or until just firm to the touch. Let logs cool for 10 minutes on the baking sheet.
Using two spatulas, transfer logs to a large cutting board and use a serrated knife to cut each log into 10 fingers, cutting at a diagonal.
Arrange cookies, cut-side down on the baking sheet and bake for 15 minutes. Flip each cookie and bake an additional 10 minutes or until biscotti are crisp.
Cool completely before storing in an airtight container. To serve, arrange on a Halloween platter in the shape of hands with fingers.
Halloween parfaits
Serving size 8
Perfect to coordinate with your orange and black themed Halloween party, these healthy holiday treats boast mango, crushed black chocolate cookies and creamy white ricotta. Mango is loaded with natural sweetness and antioxidants, chocolate wafers are lower in calories (compared to bakery or packaged cookies) and skim ricotta is a healthier choice compared to whipped cream or cream cheese.
Ingredients:
2 tablespoons honey
1 (16 ounce) container skim ricotta
3 tablespoons vanilla yogurt
1 large ripe mango, pit removed, peeled, diced
1 cup crushed chocolate wafers
1/4 cup finely chopped salted cashews
Directions:
In a food processor, combine honey, ricotta and yogurt. Blend until puréed.
In 8 tall clear glasses, layer ingredients in this order: mango, wafers, and ricotta. Repeat, ending with a sprinkle of cashews on top.
Serve immediately or refrigerate up to two days, but don't add cashews until right before serving.
---
More From SheKnows Explorer
---
---