Halloween treats your kids can make
Halloween is the perfect holiday to get your kids in the kitchen for some fun and creative cooking lessons. Here are a few Halloween recipes your kids can make.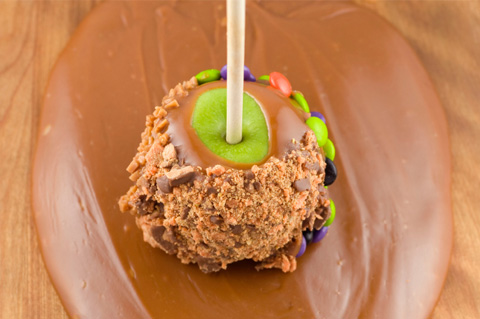 Creepy eyed banana muffins
Serving size 12
Who knew baked banana slices could resemble a couple of scary eyes on a muffin top? These banana muffins are a fun Halloween treat for the kids to bake and eat.
Ingredients:
1 cup white whole wheat flour
1/2 cup quick-cooking oatmeal
1/4 cup firmly packed brown sugar
1 tablespoon baking powder
1 teaspoon ground cinnamon
1/4 teaspoon salt
1/3 cup milk
2 tablespoons canola oil
1 egg
2 medium bananas
24 chocolate chips
12 frozen cherries, thawed, each cut in half
Directions:
Preheat oven to 400 degrees F. and let your kids grease a 12-serving muffin pan.
Show your kids how to measure out the flour, oatmeal, brown sugar, baking powder, cinnamon and salt, adding them to a large bowl. Mix with a large whisk.
Let your kids measure out milk and oil and pour into the bowl of a stand-up mixer fitted with a paddle attachment. Beat in egg until mixture is smooth.
Let your kids peel both bananas and break one of the bananas into chunks and add to the mixer bowl. Cut 12 (1/4-inch) slices from the second banana and set aside. Add the remaining banana to the mixer bowl and blend until smooth.
Let your kids add dry ingredients to the mixer bowl and turn mixer on low to blend ingredients until moistened.
Teach your kids how to evenly fill the muffin cups with the batter. Cut each of the banana slices in half to form semicircles and let your kids arrange them on the muffins as eyes, adding a chocolate chip to each one as a pupil.
Give your kids the cherry halves to arrange them on the muffins like a mouth.
Bake for 15 to 20 minutes or until muffins are baked through. Let cool in the pan for 10 minutes then carefully invert onto your hand to keep the face intact and continue to cool on wire racks.
Halloween candy caramel apples
Serving size 6
This is a fun Halloween kitchen craft for your tweens.
Ingredients:
6 apples
6 food-grade wooden craft sticks
1 (14 ounce) package caramels
2 tablespoons milk
Assorted candy: candy corn, mini chocolate bars, peanut butter cups and plain M&Ms
1 square white candy coating
Yellow and red food colorings
Directions:
Have your kids wash the apples, dry them well and then insert wooden sticks into the stem end of each apple.
Let your kids add caramels and milk to a medium saucepan. Place it over medium-low heat and cook, stirring often, until caramels are completely melted.
On waxed paper, crush candy into small pieces.
Let your kids dip each apple in the caramel, using a spoon to carefully spoon caramel up on top of apples to fully coat. Lift each apple out of the caramel, twisting to stop any drips.
Have your kids roll apples in the crushed candy, using the back of a spoon or their fingers, if caramel is cool enough, to press candy into caramel.
Set apples on another sheet of waxed paper and let sit for 20 to 30 minutes or until caramel coating is firm.
Meanwhile, melt candy coating according to package directions and let your kids stir in the food colorings until their preferred shade of orange is achieved.
Let your kids drizzle candy coating over apples and let stand until coating firms up.
Toothy pear grins
Serving size 12
Ingredients:
1 (8 ounce) package Neufchatel, softened at room temperature
2 tablespoons sugar
2 teaspoons pure vanilla extract
2 large red pears, halved and cored, each half cut into 6 slices, slices patted dry
1/3 cup slivered almonds
Directions:
Have your kids combine Neufchatel, sugar, and vanilla in a medium bowl. Let them use a hand mixer to blend ingredients until smooth. Transfer to a pastry bag fitted with a round tip.
Teach your kids how to pipe Neufchatel mixture onto six of the pear slices. Top each with remaining pear slices.
Insert four to six nuts into the Neufchatel mixture to resemble teeth. Serve immediately. Pear slices will turn brown over time.
Cook's note: You can squeeze lemon juice on pears to keep them from browning, if you're making them a few hours ahead.