Lunchbox cures for common food allergies
A recent pediatrics study showed that food allergies among children are increasing and becoming more severe. What's worse is that experts still don't have a clear understanding of the reasons for the increase in food allergies. Food allergies are challenging for families, especially when school starts and moms want to send their kids to class with a healthy and safe lunch. Here are a few lunchbox cures for common food allergies that can help you rest easier while your kiddo is in school.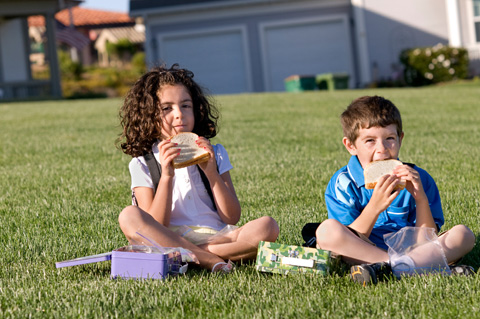 Almond Butter and Smashed Fruit Sandwich
If your child is allergic to peanuts, forgo the peanut butter and reach for a nut butter that isn't processed in a plant with peanuts. Our favorite peanut-free almond butter is Barney Butter, in smooth or crunchy. Swapping fresh fruit for jelly also is a delicious way to reduce the sugar and boost the nutrition of your child's school lunch.
Ingredients:
1 whole grain sandwich thin (such as Arnold Sandwich Thins)
2 tablespoons almond butter
1 peach, banana, fresh berries, or chopped apple
A drizzle of honey or agave
Directions:
Split the sandwich thin and lay it open with the cut side up.
Spread 1 or both thins with almond butter.
On a small plate, smash the fruit with a fork and spread it onto one of the sandwich thin halves.
Top with the remaining sandwich thin half and wrap it tightly in plastic wrap or place it in a reusable sandwich bag.
Gluten-free Chips and Dip
If your kiddo is sensitive to gluten, send her to school with a gluten-free lunch treat. Chips and dip can be a healthy combination when you use chips that are gluten-free and higher in fiber and partner them with a protein-rich hummus mixed with chopped veggies.
Ingredients:
1 ounce gluten-free chips (such as Food Should Taste Good Chips)
2 tablespoons finely chopped pitted olives
3 tablespoons finely chopped vine-ripened tomatoes
1/2 cup homemade hummus (or Tribe Hummus)
Directions:
Package the chips in an airtight container that will protect them from getting crushed.
In a small bowl, combine the olives, tomatoes and hummus. Transfer chips to an airtight container.
Dairy-free Butternut Squash Coconut Soup
If your student is allergic to dairy products, warm his belly with this creamy, filling soup that features coconut milk and butternut squash purée.
Serves 4
Ingredients:
1 tablespoon vegan butter
2 tablespoons extra-virgin olive oil
4 cups cubed butternut squash
1 sweet potato, cubed
1 small onion, coarsely chopped
3 cloves garlic, smashed
Salt and freshly ground black pepper to taste
2 tablespoons fresh ginger, minced
Finely grated zest and juice of 1 lime
1 teaspoon ground coriander
1/2 teaspoon ground cumin
3 to 4 cups vegetable broth
1 (13 1/2-ounce) can coconut milk, shaken well before opening
Directions:
Preheat the oven to 400 degrees F.
Put the butter and oil into a roasting pan and melt the butter in the oven. Put squash, sweet potato, onion, and garlic in the pan and toss, coating everything with butter and oil.
Season with salt and pepper. Cover the pan with foil and roast vegetables, stirring occasionally, until they are very tender and lightly caramelized.
Transfer the roasted veggies and juices in the pan to a large pot over medium-high heat. Stir in the ginger, lime zest, juice and broth. Bring the mixture to a vigorous simmer, lower the heat and simmer for 15 minutes.
Stir in the coconut milk and simmer for 3 minutes, or until warmed through.
Carefully purée the soup, adding more broth until you get your desired texture.
Cook's note: Make this soup in the morning before school, if you have time. Fill a thermos with hot water and set it aside until the thermos is hot. Pour water out and fill thermos with the hot soup to pack for your kiddo's lunch. If you're making soup ahead, reheat it in a small saucepan over medium heat until very hot and pour it into a warm thermos.