Bake sale basics: How to rule the school
Back to school also means back to bake sales to raise money for school programs. Whether you want to volunteer to organize a school bake sale or simply contribute your best bake sale treats, here are some bake sale recipes and tips to help you rule the school!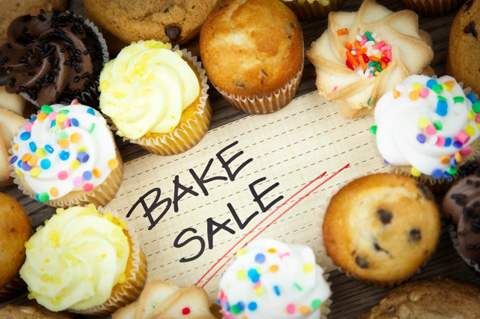 Tips if you're organizing a bake sale…
Talk to bake sale veterans
Organizing a bake sale seems easy: bake, set goods on the table, sell (all while resisting those fresh-baked cookies and bars). Before your assumption gets you overwhelmed, talk to some of the bake sale vets to see how they've organized previous bake sales and any problems they faced. Better to anticipate potential problems and come up with solutions before they blindside you.
Recruit others
There is no reason to take on an entire bake sale event on your own. Many moms and even older kids are eager to get involved. Bake sales are fun, especially for those with a serious sweet tooth. Once you set a date for the bake sale, recruit other volunteers and make a schedule so they can plan their day accordingly. Be sure to include time before the bake sale to set up tables, money boxes, and signs for the tables with prices, and don't forget to label the baked goods.
Get your kids involved
Adults aren't the only ones who can help you out with bake sale duties. Use the bake sale as an opportunity to do a team project with your kids. Ask them what kinds of bake sale treats they want to eat and let them help you in the kitchen baking their favorite recipes. Getting the kids involved in a fund-raising event like a bake sale teaches them the value (and fun) in raising money and donating time to a good cause.
Spread the word
Make flyers, send out emails, post a Facebook event, and tell others to spread the word about the bake sale and ask them to contribute their very best bake sale goods. Include an RSVP contact and urge them to let you know what they plan on bringing. Encourage bakers to make cookies, brownies, puffed rice marshmallow treats, and whole pies.
Organize your bake sale
Arrange baked goods so they are easily navigated by sweet seeking buyers. Place cookies on one table with large cookies sold individually and small cookies packaged 4 to 6 to a plastic bag. Brownies, blondies, and other cookie bars can be arranged by type on a table. Miscellaneous baked goods, such as puffed rice marshmallow treats and biscotti, can be set on another table. Whole pies also get a table on their own, placing the same types of pies together.
Have fun
If the simple bake and buy concept doesn't suit your fancy, you can always hold a cake or cookie walk, singing contest for baked goods, or some other creative game that gets bake sale goers involved in more than just purchasing the fund raising treats.
Bake sale recipes
Fun Puffed Brown Rice Crispy Treats
Swap puffed brown rice for a healthy change to this popular bake sale recipe.
Makes 12
Ingredients:
6 cups puffed brown rice
3 tablespoons canola oil
4 cups mini marshmallows
1/2 cup dried blueberries
1/2 cup coarsely chopped dried cherries
1 cup dark chocolate chips
Directions:
Preheat the oven to 425 degrees F. Generously spray a 13 x 9-inch baking pan with oil and set it aside.
Spread the brown puffed rice evenly onto a large rimmed baking sheet. Toast the rice in the oven for 4 minutes, stirring occasionally.
Meanwhile, combine the oil and marshmallows in a large mixing bowl set over a pot of gently simmering water. Stir until the marshmallows are melted.
Stir in the brown rice, blueberries and cherries until combined.
Spread the brown rice mixture into a prepared baking pan.
Melt the chocolate chips in a double boiler or in the microwave until smooth. Pour the warm chocolate over the brown rice mixture.
Cool completely before cutting. Wrap each treat in plastic wrap and keep them in a cool place to prevent the chocolate from melting.
Candy Land Chocolate Chip Cookies
The scrumptious selection of mini candies in the baking aisle gives the cookie lover a tasty array of cookie recipes that go beyond the usual chocolate morsels. Substitute half of the all-purpose flour with white whole wheat flour to give these cookies a little nutritional boost.
Makes 3 dozen
Ingredients:
2 1/4 cups all-purpose flour
1 teaspoon salt
1/2 teaspoon baking soda
1 cup (2 sticks) unsalted butter, softened at room temperature
1 cup packed light brown sugar
1/4 cup granulated sugar
2 eggs
1 teaspoon pure vanilla extract
1/2 cup semisweet chocolate chips
1/2 cup white baking chips
1 cup mini M&Ms
2/3 cup toffee pieces
Directions:
Heat oven to 350 degrees F.
In a medium bowl, whisk together the flour, salt and baking soda.
Using an electric mixer, beat the butter and sugars on medium-high speed until fluffy, 2 to 3 minutes.
Add the eggs one at a time, beating well after each addition. Beat in the vanilla.
Reduce speed to low and gradually add the flour mixture, mixing until just combined.
Stir in chocolate chips, white chips, M&Ms, and toffee pieces.
Drop heaping 2-tablespoonful measures of dough onto baking sheets, spacing the cookies about 2-inches apart.
Bake the cookies for 12 to 15 minutes, or until the edges are set and lightly browned.
Cool the cookies for 2 to 3 minutes on the baking sheets, then transfer them to wire racks to cool completely.
Store the cookies in an airtight container at room temperature.
Baker's note: You can make large cookies by using more dough per cookie. Once completely cooled, simply wrap each individually with plastic wrap. Smaller cookies can be packaged in plastic bags, 4 to 6 per bag.
Orange Zest Coconut Blondies
The addition of orange zest and coconut in these brownie-like bars gives them a unique flavor.
Makes 12
Ingredients:
1 cup (2 sticks) unsalted butter, softened at room temperature
1 1/2 cups firmly packed dark brown sugar
1 teaspoon salt
4 eggs
1 tablespoon pure vanilla extract
3 tablespoons finely grated orange zest
1 1/2 cups all-purpose flour or white whole wheat flour
1 1/4 cups shredded coconut
Directions:
Preheat oven to 350 degrees F. and grease a 13 x 9-inch baking pan.
In a large mixing bowl over a pot of simmering water, stir together the butter and brown sugar until melted and smooth. Stir in the salt and remove from heat, set aside.
In a second large mixing bowl, whisk together the eggs, vanilla and orange zest until well-combined then whisk in the flour and coconut.
Add the flour mixture to the butter mixture, stirring just until combined. Pour the batter into the prepared baking pan.
Bake for 35 to 40 minutes, or until blondies are set and lightly browned. Set the pan on a wire rack to cool for 20 minutes.
Invert pan onto a cutting board. Using a sharp knife, cut into 12 pieces. Allow blondies to cool completely, then wrap them individually in plastic wrap or store in an airtight container to take to the bake sale.