Simple back to school lunches kids can make themselves
We know it: You're busy from the moment you open your eyes in the morning until you lay your head on your pillow at night. Fitting in all the daily to-dos, including getting your kiddos off to school with healthy lunches, can seem impossible. However, if you recruit your kids to help you in the kitchen, you will not only have less to stress about in the morning, you'll be teaching them valuable cooking lessons that will boost their culinary confidence and the concept of homemade meals.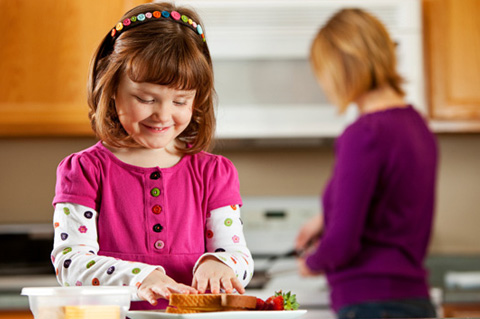 Be prepared
Fill your refrigerator and pantry with ingredients that make assembling meals easy. Spend a little extra time on Sunday to make the following items that your kids can simply grab and put into action.
Kid-friendly school lunch essentials:
Lightly steamed veggies, such as zucchini slices, broccoli florets, and green beans
Cut fresh veggies and fruit, such as sticks of cucumber, carrots, and celery, grapes, pitted cherries, easy-to-peel oranges, and bananas
Leafy greens, including romaine lettuce, spinach, and fresh basil
Whole grain breads, sandwich thins, tortillas, and baked crackers or chips
Cooked pasta in a variety of shapes, like bow-ties and corkscrews
Deli meats and cheeses
Dried fruit, nuts, and nut or seed butters
Containers of yogurt, such as Chobani Champions, the first Greek yogurt made for kids
Homemade hummus or containers of store-bought hummus, like Tribe Hummus
Various condiments, including light mayonnaise, mustard, salsa, salad dressings, and sour cream
Cans of beans and jars of pitted olives (kids love putting olives on their fingers to eat)
An assortment of snacks, such as Bear Naked Soft Baked Double Chocolate Granola Cookies or lower-fat trail mixes
Give the kids some freedom
Let the kids know what their ingredient choices are and allow them to put together their own lunches. This may make you cringe – especially when your son wants to put mustard on his almond butter and banana sandwich – but giving them some creative freedom while making their lunches will keep them interested in helping you out in the morning, or the night before, in getting their midday meals together for school.
Inspire your kids
You can excitedly tell your kids that you heard about a fun lunch idea, such as cutting sandwiches into shapes with cookie cutters or wrapping ingredients up in a tortilla and cutting it crosswise into spirals, to give them ideas. Consider getting them kid-level cookbooks with delicious illustrations that entice them to try new recipes.
Be age-appropriate
You can't turn your 5-year-old loose in the kitchen to make a rotisserie chicken sandwich, nor can you expect your 12-year-old to get excited about making lunches if all you let her do is spread hummus on a wrap. Consider your children's ages and abilities and meet them where they are. The more comfortable they become in the kitchen, the more they can be trusted with lunch responsibilities.
Up next: School lunch recipes the kids can make >>