7 Ways to dress up your vegetables
Vegetables don't have to be boring. Here are seven simple and delicious ways to dress up your vegetables tonight.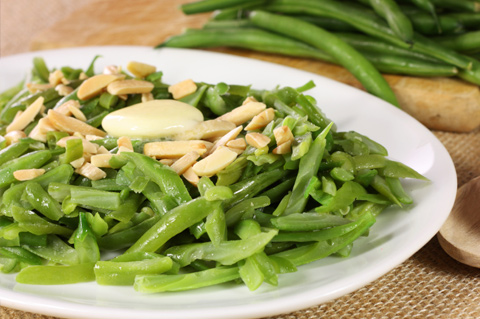 Margarine & pepper
Dressing up vegetables doesn't get easier than with a dab or two of margarine and a generous dash of black pepper. Use fresh veggies, because many store-bought canned vegetables have a high sodium count, and margarine may make them too salty. Unsalted or low-sodium canned veggies are a good substitute, but nothing beats starting with fresh ones. Lightly sauté them -- fresh green beans, asparagus and Brussel sprouts are some great options -- in a tablespoon of margarine, grind fresh black pepper to taste, and you'll dress up your vegetables simply and deliciously.
Olive oil & garlic
 Nothing beats extra-virgin olive oil and fresh garlic. Start with the best quality olive oil you can afford. If fresh garlic isn't readily available, jarred minced or diced garlic is available in the produce aisle of most grocery stores. Heat two tablespoons of olive oil in a sauté pan over medium-low heat. Add chopped or sliced fresh garlic, and stir quickly until tender or very lightly browned. Add to vegetables of your choice.
| | |
| --- | --- |
| | Be sure to watch garlic carefully: It cooks quickly, so it can burn easily, especially when minced.  |
Seasoning blends
Homemade or store-bought seasoning blends are a great way to dress up vegetables. You may be surprised to see how many options are waiting in your kitchen cabinet right now. If you prefer to buy already blended spices, The Spice House offers a lot of great choices from spicy to sweet and every seasoning in between. 
Fresh herbs
 Try whisking fresh basil, dill, parsley or sage with some olive oil and red wine vinegar for a delicious homemade vinaigrette to dress up green beans or lettuce.
Tips for growing and cooking with your own herbs >>
Mustard
Take veggies from drab to delicious with a dab of Dijon or sweet and tangy honey mustard. Combine equal parts fresh honey with yellow mustard, or use a bottled mustard dressing to drizzle over steamed or grilled asparagus.
Cheese
Jazz up broccoli with some shredded parmesan and a dab of mustard to take advantage of kids' tendency to clean their plates of veggies when cheese is included.
How to get your kids to eat vegetables >>
Nuts
The next time you're cooking vegetables, try adding nuts for color and crunch. Chop a handful of almonds, pecans or walnuts in a food processor or blender, then toss over green beans or salad.
| | |
| --- | --- |
| | If you're in a rush or don't have a food processor, look for bags of chopped or sliced nuts in your grocery store. |
More meal ideas
5 Healthy dinners in 30 minutes or less
Healthy ways to prepare your favorite veggies
Best veggie & meat pairings