Vegetable sides that pack a healthy punch
Real estate on the family dinner plate is a valuable commodity. From protein to starch to veggies to dessert, each component needs to taste good and work with the others to provide the nutrients that promote good health and high function. Unfortunately, getting into a rut when coming up with ideas for vegetable sides is all too easy. When you're ready to step away from the steamer and the side salad, try these four sides that are full of flavor and nutrition.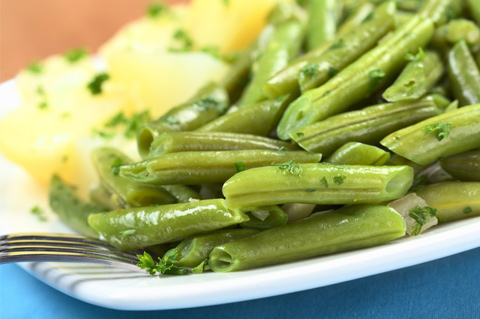 Hydrating & refreshing cucumbers
Cucumbers are at their crisp, refreshing best in the peak of summer. They're 95 percent water, so they can help you stay hydrated and boost your electrolytes. They're also rich in potassium, magnesium and fiber, so you can feel great about offering a cool cucumber, tomato, lemon and feta salad with grilled chicken kabobs at the next family cookout.
Immunity boosting & diet-friendly kale
Kale is known for its healthy properties, and with good reason: This low-cal, high-fiber food is loaded with antioxidants that help fight against the formation of cancerous cells. Vitamins A and C boost immunity, and omega-3 fatty acids -- 10 percent of the recommended daily amount -- work with vitamin K to fight inflammation and support healthy bones. Kale can have a bit of a bitter bite to it, but baking kale chips softens the flavor and makes for a savory snack.
Healthy, satisfying roots
Roast sweet potatoes, rutabaga and carrots for a really delicious trio of root vegetables. Together, they provide a super-charged boost of Vitamin C, beta-carotene, potassium, magnesium, iron and other antioxidants. They are also full of fiber, which will help you walk away from the dinner table feeling satisfied. Roast your root vegetables in the oven with margarine, salt, pepper and paprika, and serve them instead of French fries.
Delicious & disease fighting broccoli
Serve up a stir-fried side of broccoli and mushrooms for a dish that helps fight heart disease and stroke with lutein, Vitamin B6 and folate. Broccoli also is loaded with Vitamin C, magnesium, calcium, Vitamin K and potassium. This cocktail of nutrients helps maintain a healthy nervous system, promotes muscle growth, fights free radicals and boosts immunity.
When planning meals for the week, choose a wide variety of healthy vegetable sides for your family so they get ample doses of the many vitamins and minerals that every body needs.
More healthy vegetable dishes
Sautéed watercress
Fresh basil with beans & cherry tomatoes
Glazed turnips with thyme
Sour cucumber salad
---
More From SheKnows Explorer
---
---