Best veggie & meat pairings
When planning a meal, finding complementary food pairings can be a challenge. Just as you would avoid choosing a wine that would overpower the palate and the plate, you should take the same care when choosing a vegetable to pair with meat. Likewise, a vegetable and meat combo that shares too many flavor characteristics may be weak in flavor. Try these recommended veggie and meat pairings for a flavorful meal.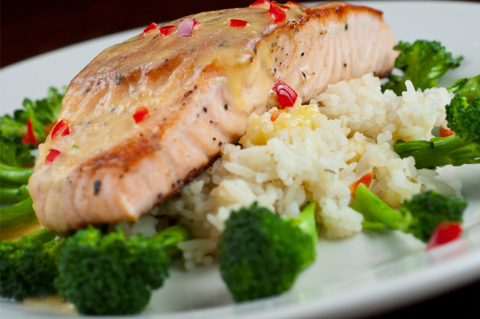 Sweet & tangy veggies + Pork
Sweet and tangy vegetables complement pork roast well without overpowering its flavor. Root vegetables tend to gain a little sweetness when roasted, which makes them an excellent companion to pork. Sautéed spinach and roasted leeks are also flavorful sides. Try this boneless pork roast recipe for a deliciously tender main dish that cooks in the crockpot without fuss.

Healthy root vegetable recipes for perfect pairings >>

Cruciferous veggies + grilled meats
Cruciferous vegetables may help rid the body of carcinogens that can form on meat during high-heat cooking. Pair grilled meats such as steak, chicken and fish with a healthy side of Brussel sprouts, broccoli or cauliflower.
Roasted veggies + Roasted chicken
Take into account your cooking methods when choosing vegetables to pair with a meat dish. Veggies that lend themselves to similar treatment often make a complementary side dish when combined. For example, roasted asparagus, carrots, parsnips, corn and sweet potatoes all pair exceptionally well with roast chicken.
Fall vegetables and pine nut pesto for the next time you serve roasted chicken >>

Consider the mouthfeel
Think about the texture, as well as flavor, when pairing meat and veggies. A crispy piece of fish works well with jicama sticks or coleslaw. The firmer texture of steak typically pairs well with a contrasting vegetable dish such as mashed potatoes and cauliflower and cooked carrots with margarine and garlic.
At the end of the day, the best vegetable and meat pairings are the dishes that your family really loves. Even if the textures don't seem to match up in the conventional sense, or the flavors aren't neccessarily a match made in heaven, it doesn't matter. If they are two items for which your family goes crazy, then it will most likely work at your dinner table.