3 Easy vegetarian main dishes
Vegetarian dishes are sometimes misunderstood. Coaxing a non-believing family member into sharing a meatless dish for dinner can be difficult. Luckily, there are plenty of really delicious, healthy and well-balanced vegetarian meals and recipes from which to choose. The next time you plan a meatless Monday for the family, try one of these super simple and substantial vegetarian main dishes.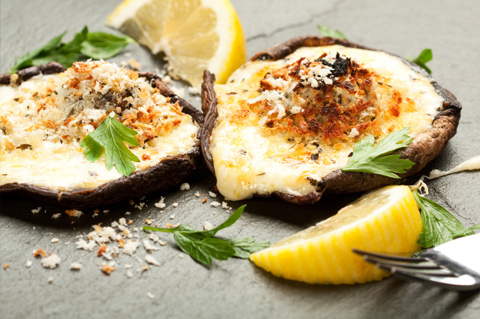 Black bean & sweet potato chili
Beans offer a healthy mix of protein and fiber that benefits the digestive track, helps regulate blood sugar and benefits the cardiovascular system. Just one cup of black beans provides approximately 15 grams of protein, which is equivalent to around two ounces of meat. Throw in the added nutritional benefits that come from tomatoes and sweet potatoes -- think increased energy and immunity -- and a bowl of this stuff is a no-brainer. The spiciness of the chili complements the sweetness of the potato perfectly. For an added boost of nutrition, throw in some fresh, chopped greens during the last several minutes of cooking and stir until the greens are wilted.
Try this easy Black Bean & Sweet Potato Chili recipe >>
Stuffed portabella mushrooms
Portabella mushrooms are a common substitute for meat because of their dense and slightly chewy texture. They also take on the flavors of the ingredients with which they're prepared, which makes them a versatile component of many vegetarian dishes. By removing the stems, flipping the caps upside down and stuffing them with a spinach and ricotta mixture, you'll make a nutritious winner. It provides calcium, protein, Vitamins A, C and E, beta carotene, zinc and selenium -- all of which together help protect bones, boost immunity and even fight wrinkles.
Easy stuffed portabella mushrooms >>
Panzanella
Panzanella, also known as bread and tomato salad, is a classic recipe from Tuscany that makes use of leftover peasant or Italian bread. Combine toasted chunks of day-old bread with fresh tomato wedges, garlic, red onion, fresh basil, green olives, mozzarella and balsamic vinaigrette for a salad that seems too tasty to be healthy. Each component makes a nutritious contribution, too. For example, the lycopene in tomatoes helps reduce cholesterol and protect the heart. The mozzarella provides calcium and protein. The green olives add a dose of monounsaturated fat -- which your body needs to help keep blood pressure in check.
More vegetarian recipes
Black bean tostadas
Creamy sweet corn risotto
Mediterranean pizza pitas