5 Tips for raising healthy eaters
As a parent, you want your kiddos to grow up healthy, happy, and wise. The best place to start is in the family kitchen. Meal planning and mealtimes are invaluable opportunities for your children to learn about good-for-you eating and healthy cooking. Teaching your kids about nutrition and smart cooking now will help them grow up with a solid foundation for living a healthy lifestyle into adulthood. Here are five tips for raising healthy eaters.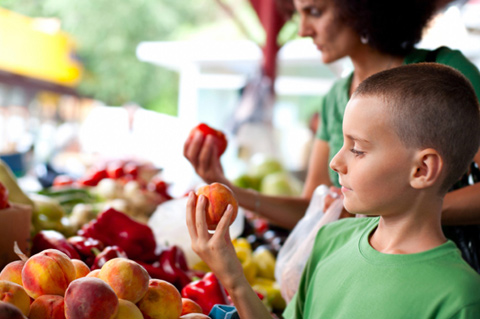 Be a healthy role model
Kids learn from their parents, and if you're shoveling down Oreos while telling them to eat carrots, they're going to feed the carrots to the dog and raid the Oreo bag when you're not looking. Teach by doing – cook meals every day, eat healthfully, and fill your kids in on everything you're doing while meal planning and shopping. For example, tell them why dark leafy greens are a healthier choice than iceberg lettuce (far more nutrients) and why baking fish is better for them than frying it (fewer calories and less fat).
Include the kids in meal planning
Every Sunday, sit the kids down and ask them what meals they want for the upcoming week. If they know they get to have their say in the meals, they will be more excited about grocery shopping with you and helping in the kitchen to make the meals. This is especially key for picky eaters – give picky eaters genuine freedom in their regular meals and they will quickly get bored of eating the same three things every day.
Take the kids grocery shopping
Though it may take longer and require more patience to include your kids in the grocery shopping, it's a great way for them to learn about which foods are healthy or not-so-healthy, and lets them see the wide variety of ingredients that can go into their meals. Make grocery shopping extra educational by having the kids practice their counting skills, learning weights and measures with the produce or bulk scale, and having them differentiate fruits from vegetables.
Eat seasonally and locally
Kids will love healthy meals when they are kid-friendly delicious. Eating fruits and vegetables in season gives your family a health-promoting bounty of nutrition while also ensuring your homecooked meals are loaded with flavor from produce picked at its ripe peak. Take your kids to the weekly farmers market and let them choose the fruits and vegetables that appeal to them. In addition, you may be able to score farm-fresh eggs and fresh-baked goods. While you're at it, you can teach your kiddos what it means to eat seasonally and how you are supporting the livelihood of the local farming families.
Get cookbooks that speak to your kids
Surprise your kids with cookbooks written specifically for them. There is a growing number of kid-friendly cookbooks on the bookstore shelves and many of them feature fun, health-conscious recipes. Our favorite ChefMom pick is a brand new cookbook from the editors of Cooking Light Magazine. Cooking Light The Ultimate Kid Approved Cookbook (Oxmoor, August 2011) is a spiral-bound beautifully illustrated book featuring more than 100 recipes that have been tasted and approved by Cooking Light's Kid Taste Testing Panel, each recipe listing age-appropriate tasks for younger and older chefs ranging in ages from 3 to 12. In addition, this kid-friendly cookbook shares easy-to-understand nutritional information, healthy eating tips, and interesting food facts to help your kids make wise food choices. Photographs in the book show excited kids making eye-appealing dishes, ranging from breakfast to dinner. When it's time to plan the week's family meals, hand your kids The Ultimate Kid Approved Cookbook and see what they want on the menu.