Fast and easy fish dishes for the family
With fish being a lean quality protein and quick to cook, it's a great go-to for fast, healthy, family dinners. The American Heart Association recommends eating fish, particularly fatty fish like salmon and tuna, at least two times a week. Here are three easy fish dishes to put on your weekly meal plan.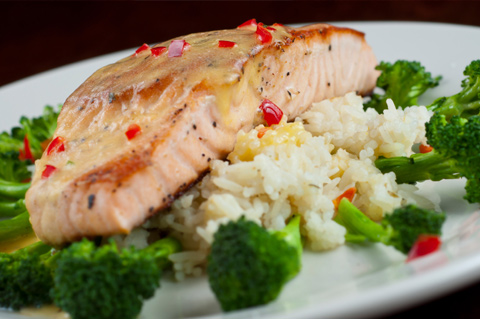 10-Minute Honey Mustard Salmon
Loaded with heart-healthy omega-3 fatty acids, salmon is a buttery-flavored fish that goes well with sweet and savory flavors. Serve this healthy fish dish with a side of brown rice and a generous serving of lightly steamed broccoli.
Serves 4
Ingredients:
2 tablespoons  Dijon mustard
2 tablesoons honey
Salt and freshly ground black pepper
4 (5- to 6-ounce) salmon fillets
Finely chopped fresh dill
Directions:
Preheat broiler and spray a large rimmed baking sheet with cooking spray.
In a small bowl, whisk together mustard, honey, and salt and pepper.
Rub salmon fillets on top and sides with the honey mustard.
Place fillets, skin-side down on prepared baking sheet.
Broil for 8 minutes or until fish just flakes when pressed with the back of a fork.
Serve garnished with a scattering of fresh dill.
15-Minute Fish Tacos with Quick Slaw
Tilapia is a mild flavored white fish that cooks in minutes, making it a perfect choice for fish tacos.
Serves 4
Ingredients:
Grated zest and juice from 1 large lime
2 tablespoons olive oil, divided
3 tablespoons sour cream or cream fraiche
1/2 teaspoon ground cumin
3 cups shredded cabbage (preferably with shredded carrots)
1/4 cup thinly sliced green onions
1/4 cup finely chopped red bell pepper
1/4 cup chopped fresh cilantro
Salt and freshly ground black pepper to taste
1 pound tilapia fillets
1 teaspoon ground coriander
8 (6-inch) corn tortillas, warmed
Directions:
In a large bowl, whisk together lime zest, juice, 1 tablespoon olive oil, sour cream, and cumin. Add cabbage, green onions, bell pepper, and cilantro. Season with salt and pepper.
Heat remaining oil in a large skillet over medium-high heat. Season fish with salt, pepper, and coriander.
Cook fish 3 minutes on each side or until fish flakes when pressed with the back of a fork.
Toss slaw, green onions, bell pepper, and cilantro. Combine first 4 ingredients in a large bowl. Add juice, 1 tablespoon oil, and 1/4 teaspoon salt; toss well to combine.
Coarsely flake fish or place fillets in the warm tortillas and top with slaw. Serve immediately.
20-Minute Fish Chowder
With fall and winter right around the corner, this hearty, healthy fish chowder will be a welcome treat at the end of a long school or work day.
Ingredients:
2 lean bacon slices
3 cups diced red potatoes
1 cup finely chopped onion
3 tablespoons all-purpose flour
2 (8-ounce) bottles clam juice
2 cups 2% reduced-fat milk
1 tablespoon chopped fresh thyme
2 tablespoons chopped fresh parsley plus more for garnish
Salt and freshly ground black pepper
3/4 pound skinless halibut, pollack, or cod fillets, cut into 1-inch pieces
Directions:
In a Dutch oven over medium-high heat, cook bacon until crisp. Transfer bacon to a folded paper towel to drain and remove all but 1 tablespoon of bacon drippings from the pan.
Add potatoes and onion to the pan and cook, stirring often, until onion is tender and translucent.
Sprinkle flour into the pan and cook, stirring constantly, for about 1 minute. Add clam juice and bring to a boil.
Cover pan, reduce heat, and simmer until potatoes are fork tender. Raise heat to medium-high and stir in milk, thyme, and parsley. Bring to a simmer but do not boil.
Season with salt and pepper. Add fish and simmer for 4 minutes or until fish is cooked through.
Meanwhile, crumble bacon. Ladel chowder into bowls and garnish with parsley and crumbled bacon.