Easy everyday lunches for back to school
With summer quickly waning and back to school madness beginning, now is the time to start planning those brown bag (or ecofriendly bag) lunches for your kids. Here are a few easy everyday back to school lunch ideas that will give your kiddos a delicious and balanced midday meal.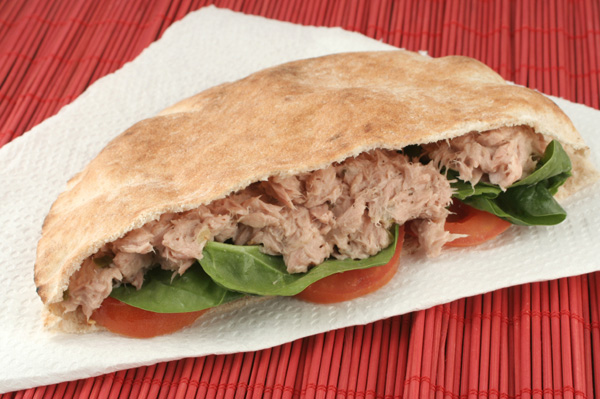 Turkey, Cheese, and Spinach Spirals
Serves 1
Ingredients:
1 (8-inch) whole grain tortilla
1 tablespoon mayonnaise
5 to 6 leaves baby spinach
1 to 2 thin slices all natural turkey
1 thin slice provolone cheese
Directions:
Place the tortilla on a cutting board and spread it with mayonnaise,then lay spinach in a single layer on top.
Lay the slices of turkey and cheese on top and roll the tortilla into a roll, seam-side down.
Use a sharp knife to cut wrap crosswise into 5 to 6 spirals. Place the rolls in a small container that holds them together snugly to keep spirals from unrolling. (If making ahead, refrigerate.)
Lunchbag extras:
Watermelon: Use a 2-inch cookie cutter to cut a watermelon slice into fun shapes.
Carrots: Cut a carrot crosswise or at a diagonal into coins.
Milk: Fill a 4- to 6-ounce sealable juice cup with milk.
Tuna Salad in a Pita
Currants and walnuts give this tuna salad natural sweetness and crunch.
Makes 2
Ingredients:
1 (5-ounce) can sustainable albacore tuna (such as Sustainable Seas)
2 tablespoons light mayonnaise made with olive oil (or more to taste)
2 tablespoons dried currants
2 tablespoons coarsely chopped walnuts
1 green onion, sliced (green and white part)
1 small celery stalk, diced
1 tablespoon sweet relish (or more to taste)
Freshly ground black pepper to taste
2 pita pockets
2 leaves lettuce
Directions:
In a medium bowl, combine the tuna, mayo, currants, walnuts, green onion, celery and relish. Seaon with pepper.
Open each pita pocket and line one side with a lettuce leaf. Scoop the tuna salad into the pitas being sure not to overfill them.
Set each pita in a sandwich container that will keep them from getting smashed.
Lunchbag extras:
Broccoli: Lightly steam florets until just tender and pack with a small container of low fat dressing.
Grapes: Place green and red grapes in a small container.
Hummus and Baked Crackers
When you don't have time to whir your hummus or bake your own crackers, turn to the healthiest store bought brands to give you a fast, easy school lunch.
Serves 1
Ingredients:
Directions:
Pack hummus and crackers in separate containers.
Lunchbag extras:
Olives: Fill a small container with pitted olives (they're fun for the kids to put on the ends of their fingers for easy eating).
Sweet pepper: Cut 1/4  of a red bell pepper into strips.
Orange: Fill a small container with fresh orange segments or canned mandarin oranges (drained).