Kid-friendly pasta recipes for lunch
Summer's here and the kids are home, meaning moms have to get creative with lunch. The whimsical array of shaped pastas coupled with the fresh flavors of summer produce make healthy, kid-pleasing midday meals. Here are some kid-friendly pasta recipes and tips that will keep the whole family happily well fed.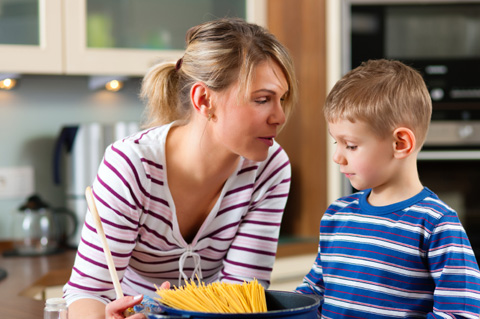 Make pasta dishes interesting for the kids
A bowl of noodles with tomato sauce may be an easy lunch, but it may not keep your kiddo's attention very long. If you want pasta to be an exciting midday meal for your children, make it interesting.
Aim for unusual shapes -- Go beyond noodles and tubes and serve really unusual shapes such as spirals, bow ties, ruffled squares, shells, and wheels. My favorite is the Garofalo pastas you can buy in a six-pack of different shapes at Costco.
Give your pasta a theme
Specialty pastas are available online, at gourmet stores, and at other specialty food retailers. My son loves the travel pasta (pasta shaped like motorcycles, airplanes and cars) from World Market, but you can find animal shapes, ocean shapes, holiday shapes and more. Specialty pasta is a great conversation and storytelling starter for your kids.
Make pasta educational
Instead of waiting until the occasional alphabet soup meal, serve alphabet pasta in other ways. Have your kids point out certain letters and see who can come up with a word that starts with each letter.
Seek out colorful pasta
Browse your local natural food stores and you'll find fresh pasta products sporting stripes and catchy colors, or simply peruse the dry pasta at the supermarket, or the bulk foods area and pick up the tricolor varieties (e.g., spirals, orzo, fettuccini, etc.).
Add a variety of ingredients
Take your usual plain pasta recipe and add at least three other colorful and delicious ingredients to it. For protein, toss in flaked salmon, shrimp, chicken, beef, sliced hard-cooked eggs, beans, or nuts. For low-calorie nutrition, stir in diced or sliced vegetables, dark leafy greens, and fresh herbs. Switch up your regular tomato sauce with pesto or make cold pasta salads with a light vinaigrette. 
Up next: Kid-friendly pasta recipes for lunch >>
---
More From SheKnows Explorer
---
---