Tasty, creative cantaloupe recipes
Growing up in the San Joaquin Valley of California, I couldn't wait until the summer crop of cantaloupes were ripe for the picking. One of my fondest childhood food memories is eating freshly cut cantaloupe still warm from the field with a big scoop of vanilla ice cream. As an adult, I've kept the tasty melon memories alive by creating cantaloupe recipes that satisfy both my sweet and savory cravings. Here are my favorite ways to eat cantaloupe.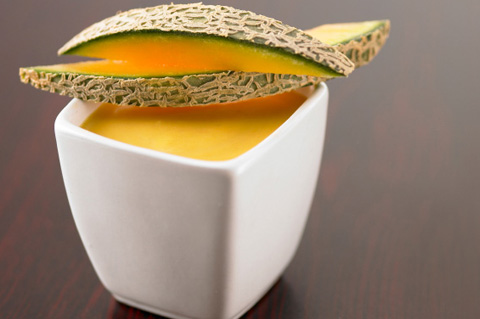 Mouthwatering melon ideas
Though I have an affinity for cantaloupe, you can swap it with honeydew, watermelon, or another of your favorite melons for the following melon-yummy serving suggestions.
Purée chilled cantaloupe chunks with vanilla yogurt and cashew or almond butter for a breakfast smoothie or snack.
Fill half a small cantaloupe with cottage cheese or ricotta cheese, sprinkle with granola, and eat immediately.
Nestle thin slices of cantaloupe into your sandwiches for a sweet, juicy surprise.
Wrap wedges of cantaloupe with paper-thin slices of prosciutto for a quick sweet-salty snack or appetizer.
Substitute, or add, chopped cantaloupe for the fruit in your usual fruit salsa recipe.
Skewer cantaloupe and onion wedges, brush with olive oil, and grill them until the onion is lightly browned.
Include balls or chunks of cantaloupe into your green salads.
Toss bite-sized pieces of cantaloupe with minced fresh basil, a little garlic, and a drizzle of your favorite balsamic vinaigrette.
Soften vanilla ice cream and stir in finely chopped pieces of cantaloupe then refreeze ice cream.
Tips for picking the ripest melons >>
Cantaloupe recipes
Sunshine Salad
Cantaloupe's bright orange hue brings the happy color of sunshine to every dish.
Serves 4
Ingredients:
1 small, ripe cantaloupe, halved, seeded, peeled, and cut into chunks
2 clementines (or 1 small orange), peeled, segmented
2 tablespoons minced fresh mint
1 tablespoon minced fresh ginger
Zest and juice of 1 lime
1 tablespoon agave or honey
2 tablespoons extra-virgin olive oil
Sea salt
Directions:
In a large bowl, toss together the cantaloupe and clementines.
In a small bowl, stir together the mint, ginger, lime zest and juice, and agave or honey.
Whisk in the olive oil and season it with salt.
Pour half of the dressing over the melon mixture and toss to coat -- taste and add more dressing, if desired. Serve immediately.
Chilled Cantaloupe Soup
This cool fruit soup is refreshing as a starter course and a satisfying light meal for lunch on a hot summer day.
Serves 4
Ingredients:
1 cantaloupe, halved, seeded, peeled, cut into chunks
1-1/2 to 2 cups almond milk
2 tablespoons brown sugar
1/2 teaspoon Chinese 5-spice powder or more to taste (optional)
Toasted sliced almonds for garnish
Directions:
Combine cantaloupe, 1-1/2 cups almond milk, brown sugar, and 5-spice in a blender or food processor and purée.
Add the remaining almond milk (and even more, if necessary) to achieve a soup consistency. Chill it for one hour.
Serve chilled and garnished with toasted almonds.
Simple Cantaloupe Granita
Serves 6
Ingredients:
2 to 3 cups finely chopped cantaloupe
1/4 to 1/3 cup sugar
Juice of 1 lime
1 cup crushed ice
Directions:
Place all of the ingredients in a blender or food processor and blend until smooth.
Transfer the mixture to a 13 x 9-inch baking dish and place the dish in the freezer for 45 minutes, or until it becomes semi-firm.
Scrape the mixture with a fork and serve in champagne glasses or dessert dishes.