5 Protein-rich back-to-school meal ideas
Keep the kids energized and focused for busy afternoons of soccer, piano, homework and more with these protein-packed meal ideas. Protein supports muscle growth, organ development and hormone production.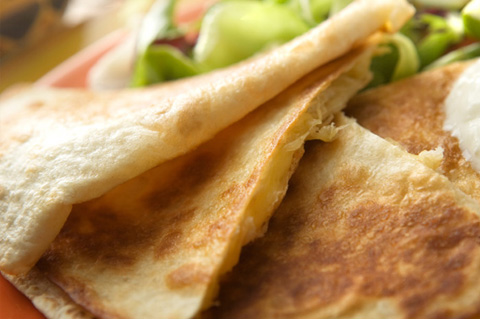 Pizza power
Jazz up whole grain pitas or English muffins with pizza sauce or diced tomatoes, low-fat shredded mozzarella and Hormel pepperoni for a protein-packed pizza that is perfect for those busy evenings! The protein in cheese and pepperoni keeps energy levels high so your kids will stay focused for their evening activities.
Chicken + veggie quesadilla
Dice protein-rich chicken into bite-size pieces. Combine with low-fat shredded cheese, diced bell peppers, diced tomatoes and other veggies. Spread chicken and veggie mixture on a whole grain tortilla. Not only are you ensuring your kids get a protein-rich meal, but it's easy to sneak in a variety of protein-packed veggies like spinach and black beans.
Breakfast for dinner
Always a favorite, serve breakfast for dinner! Scramble protein-rich eggs with diced veggies and serve with turkey sausage. Serve up a breakfast burrito by filling a tortilla with scrambled eggs and add avocado and low-fat cheese. To add extra protein and make eggs extra tasty, add in 1 tablespoon of cream cheese when scrambling. Serve with low-fat milk for a protein-packed meal.
Go fishing
Mild fish like orange roughy or tilapia are perfect for picky eaters and packed with protein. Make your own fish sticks by dipping sliced fish into egg and seasoned bread crumbs or panko crumbs. Serve with ketchup or mango salsa for fun dipping sauces. Serve with veggies sprinkled with low-fat cheese for an extra boost of protein power!
Another seafood favorite? Grill baby shrimp and let the kids enjoy this protein-packed finger-food! Serve with black beans, shredded cheese and sautéed peppers for easy-to-make fajitas! Kids love to get involved in making dinner, so let them help make their own fajitas with these healthy ingredients.
Turkey + black bean burgers
Combine 1 pound lean ground turkey, 3/4 cup mashed black beans, 1/2 cup shredded zucchini, 1 egg white, salt and pepper in a medium bowl. Shape into patties and cook over medium heat for 4-5 minutes on each side or until internal temperature reaches 165 degrees. Packed with 22 grams of protein, these burgers will have you and the kids smiling! Make some burgers mini size for little sliders that are perfectly portioned for kids. 
How to get kids to eat more protein
Jennifer Paulson of Adventurous Eaters explains why quesadillas are a great way to get kids to eat protein.