7 Fun and flavorful after-school snacks
When your kids get home from school, they're hungry! Dinner's hours away, so they need something tasty to tide them over. Try some of these recipes for fun after-school snacks they're sure to love.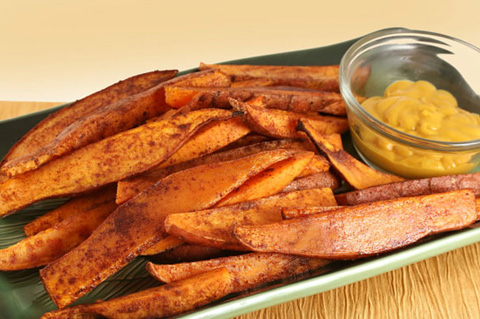 Sweet potato fries
Every kid loves French fries, but these are much healthier than the regular variety. Cut four or five sweet potatoes into wedges and lay them out on a large baking sheet. Coat them with a tablespoon of olive oil and sprinkle them with Old Bay seasoning. Bake at 400 degrees for about 20 minutes, or until the fries are crispy on the outside and soft on the inside. These moist and flavorful fries don't really need a sauce, but if your kids need a little something extra, try ketchup or vinegar.
Pizza muffins
These personal pizzas are sure to be a hit with kids of any age. Toast English muffins, then top with pizza sauce, mozzarella cheese and your favorite pizza toppings. Bake pizzas at 375 degrees for 10-15 minutes, or until cheese is melted. For a little fun, let your kids experiment with different toppings of their choice.
| | |
| --- | --- |
| | Don't pack soft fruit. Fruits like bananas and peaches get so beat up in transit, they're often ready to be trashed by lunch time. |
Mini cheesecake
Who wouldn't want to come home to a cheesecake? These mini versions are quick to make and not so rough on the waistline. Spread softened cream cheese over a graham cracker, and top it with your favorite jam or jelly. To mix things up a bit, use fresh fruit instead of jelly or jam.
Nachos
These nachos are warm and gooey – perfect for after school or any get-together. Brown one pound of hamburger with taco seasoning. Spread tortilla chips out on a baking sheet and cover with the hamburger, as well as cheese. Bake at 350 degrees for 10-15 minutes, or until all of the cheese is melted and starts to bubble. Top the nachos with shredded lettuce, tomatoes, black olives and anything else your crew loves. Make sure to grab a few for yourself because they won't last long.
Cinnamon breadsticks
Plain breadsticks can be purchased at most grocery stores, and with a little effort, can be dressed up and turned into something fun. Lay breadsticks out on a baking sheet and brush them with melted butter. Sprinkle with cinnamon and sugar, then bake them at 350 degrees for as long as the manufacturer suggests or until they turn a golden brown.
Frozen fruit kabobs
These treats are super healthy and fun to eat. They're also really refreshing on a hot day or after a long walk home. Simply cut up a selection of your favorite fruits into bite-sized pieces and place them on a spear or lollipop stick. Lay them on a baking sheet lined with wax paper and freeze them for at least four hours. Take the kabobs out of the freezer for at least 10 minutes to soften just a bit before you serve them.
Parfait
Parfaits are healthy and widely appealing, because you can make them to suit nearly any taste. Start with a base of yogurt, either plain or flavored, then mix in fresh, frozen or canned fruit. Top it with granola or another cereal and you've got a healthy sweet treat in no time at all.
More after-school snacks
5 Protein-rich snacks kids love
Budget-friendly snack ideas for kids
6 On-the-go snacks for kids