Brown bag lunches the family will love
These days, everyone's looking for a way to pinch pennies, and brown bag lunches are a great way to start. Both kids and adults in your family can benefit from not only the cost savings, but also the health boost you'll get from fresh foods. Sandwiches can get boring, though, so mix it up with some of these fun ideas.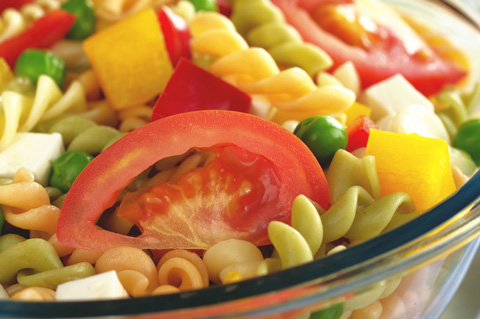 Bag the bread
Bread is boring. Liven up your lunches by switching bread for pitas or wraps. Include all the ingredients you like on your favorite sandwiches or try something new. Kids will love them because they're fun to eat and adults will appreciate the variety. Wrap them in foil or plastic to keep them together until lunch.
Pasta pleasers
Make a meal out of leftover pasta salad from last night's cookout. Add some extra dressing if it's started to dry out, and throw in some meat or cheese to add protein. If the salad is light on veggies, chop up a tomato or carrot and add that, too.
Dip away
Kids love to dip – there's no better way to get them to eat vegetables and other things they would rather ignore. Pack carrots, celery, snap peas, pretzels and other dip-friendly foods, along with vegetable dip, ranch dressing or peanut butter. For fruit, send a small container of plain or vanilla yogurt – a great way to dress up fruit without much hassle.
Keep it cold
For health (and taste) reasons, it's important to keep brown bag lunches cold until they're ready to eat. You can use reusable ice packs, but how often do those actually make it back home? Instead, freeze water bottles, juice boxes and yogurt containers and add them to the lunch. They'll keep the lunch cold until it's time to eat, and probably still be slightly frozen and slushy. Plus, that juice box or water is much healthier than most items that would come out of a vending machine.
| | |
| --- | --- |
| | Don't pack soft fruit. Fruits like bananas and peaches get so beat up in transit, they're often ready to be trashed by lunch time. |
Stackables
Sometimes, it's OK to play with your food. Kids like to assemble their own meals, so let them! Pack an assortment of crackers, meats and cheeses and let them eat them how they want. They may create towering sandwiches, or eat each piece individually. Does it really matter as long as it gets eaten?
Parfaits
Parfaits are perfect for a light meal, and are best served fresh. Add plain or vanilla yogurt to a plastic container, leaving room for the toppings you'll add later. Pack granola and your choice of fruit separately. If you don't have granola on hand, try your favorite low-sugar cereal instead. When you're ready to eat, just mix and enjoy!
More brown bag ideas
Easy nutrients to pack into a school lunch
5 Reasons your kids should pack their own lunches
8 Fun school lunch bags and boxes