30-Minute back-to-school family dinners
Just because your kids start running in different directions once the school year starts doesn't mean you have to forgo a family dinner. Corral the kids for these quick, 30-minute back-to-school meals that will help sustain them through homework, band and sports practice while keeping your family connected.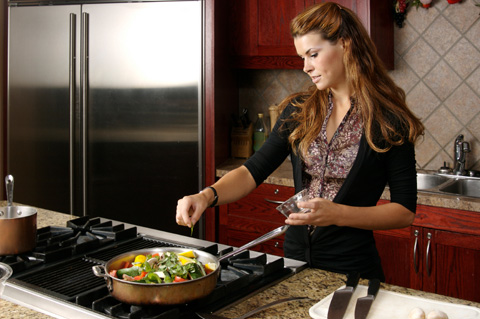 Planning a 30-minute dinner
With proper planning, most family dinners can be cooked up and served in 30 minutes or less. The key to creating fast meals is to think ahead, identify short-cuts and prepare as much as you can in advance. Here are a few tips for creating delicious dinners in a hurry:
Write up a weekly menu and make sure you have all the necessary ingredients on hand – nothing slows down meal preparation faster than searching for ingredients only to discover you don't have what you need.
Cook your meat in advance. If you know you have your Sunday afternoon free, brown up ground turkey or beef and bake chicken and slice it into pieces. Throw the meat into freezer bags and store it until you need it. You'll easily save yourself 10 to 20 minutes by having pre-cooked meat on hand when fixing dinner.
Slice veggies twice a week. Preparing veggies for skillet dishes and casseroles is often the factor that prevents well-meaning parents from cooking dinner at night. Who wants to deal with the hassle and clean-up? If you take 15 minutes twice a week to slice up broccoli, carrots, zucchini, onions and other commonly-used veggies, you can bag them up and throw them in the crisper. Whenever you want to make a stir-fry, all you have to do is pull out a bag and dump it in the skillet.
Dinner on the run
When you have a PTA meeting or a volleyball game to attend at night, you need a meal you can eat at the table or take on-the-run. Try hand-held favorites like sandwiches, pita pockets, chicken strips or creamed soups that you can carry in a thermos. Pair your favorite hand-held dinner with baby carrots and celery sticks to round out the meal.
Skillet turkey sandwich
This simple and hearty sandwich will feel like a lovingly made meal even if you can't sit down to eat it.
Dinner for a crowd
When your kids ask if their friends can stay for dinner, don't feel like you need to turn them away. Cook up one-dish wonders in less than 30 minutes that are sure to be crowd pleasers.
Mexican tortilla skillet
Sometimes you have all the ingredients for a perfect enchilada or taco dinner, but you're missing the requisite number of tortillas. With this skillet meal, you can make a super-sized family dinner without worrying about whether you have enough taco shells.
How to make a skillet meal
Fire up the skillet and savor the flavor of these easy and delicious stove-top creations.