Moms share: My favorite back-to-school family meals
After a long summer of barbecues and leisurely family meals, getting into a back-to-school routine can be tough. Learn how real moms make it work with their favorite back-to-school family meals.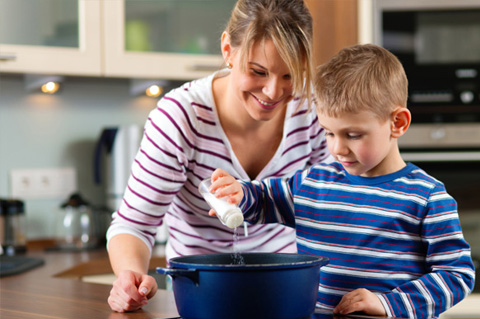 Make-your-own dishes
Every mom knows that her children will not always have the same taste  in food – one will love tomatoes and hate onions while the other loves onions and hates tomatoes. That doesn't mean that mom should have to spend all day slaving over multiple meals. Instead, choose back-to-school menu options that include make-your-own dishes. All you have to do is simply set out the supplies for the meal and your kids can choose their ingredients.
For instance, Holly Kile says, "One of our favorites is Turkey Taco Nachos. We start with ground turkey that is pre-seasoned with taco flavors and brown it up. Then, all we have to do is let everyone build their own nachos from there. I set out chips, cheese, lettuce, sour cream, salsa and all things nacho. It's an easy, fix-it-as-you-like-it meal that everybody loves."
You don't have to stop at just nachos, either. Choose a base menu item, like sandwich bread or plain pasta, and let your kids build their own meal with the supplies you have on hand.
Faster favorites
Sometimes your family's favorite meal takes too long to make when homework and extracurricular activities are added to your evening schedule. When you can't set aside hours to make a lasagna or roast, look for tasty alternatives that don't require hours of hands-on preparation. Both Robin Wallace and Rachel Sue Ward subscribe to this line of thinking: 
"I'm a single mom who's always on-the-go with my son. What saves the day in my house is the crock pot. I'll throw in a roast with leeks, carrots, onions and potatoes and when I get home at the end of the day I'll have a wonderful, hearty meal to welcome us to the dinner table." – Robin Wallace
"We are a lasagna-loving family, but that is one of the most time-consuming recipes on the planet. I found a 30-minute stove-top lasagna recipe that we all love. It's the same ingredients as regular lasagna but with smaller pasta noodles. The whole thing is cooked in one skillet." – Rachel Sue Ward
Frozen alternatives
Fast food and microwave dinners may seem like an easy option on a Tuesday night, but they'll never be quite as good as an old-fashioned homecooked meal. Even if you don't have the time to cook dinner every night, try to set a weekend afternoon aside to cook up one or two dishes that you can freeze for later in the week. You don't even have to cook the whole meal – try cooking and freezing meats or casseroles that you can use as side dishes or snacks.
"One of the staples in my repertoire is actually one of the simplest – it's called 'Bev's Chicken.' It contains three ingredients – whole chicken, Wishbone Italian dressing and Kellogg's Cornflake Crumbs. I mix up several batches of the chicken marinated in the dressing and freeze it so I always have it at the ready. In fact, you can do this with almost any chicken recipe." – Sheri Silver