5 Quick and easy back-to-school dinners
Back-to-school time is hectic, and trying to adjust to new schedules can be crazy. Getting everything on your list accomplished by the end of the day seems impossible at times. Make things easier on yourself by planning quick and easy dinners ahead of time.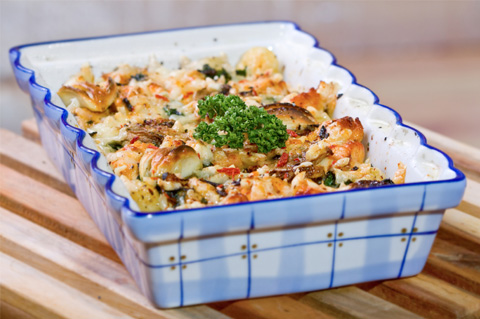 Chicken salsa
Chicken salsa cooks in your slow cooker, so you throw it together in the morning and forget about it all day long. By the time you're ready to eat, you have a delicious dinner that's cooked to perfection.
Place four chicken breasts in your slow cooker and top them with a jar of your favorite salsa. Add a small bag of frozen corn and one can of drained black beans. Set the slow cooker on low and let it cook for 8 hours. Before you serve, remove the chicken and shred it, then add it back to the salsa mixture and stir. Serve over rice or on tortillas with lettuce, cheese and sour cream.
Pizza biscuits
This is the kind of pizza you need a fork to eat. It's gooey and great for a chilly fall evening with a taste the whole family will love. Serve it up with a salad for a complete meal.
Brown one pound of hamburger with a jar of pizza sauce until the meat is cooked and the sauce is bubbly. While it cooks, open and separate two cans of refrigerated biscuits onto greased baking sheets. Top the uncooked biscuits with the meat mixture and bake at 375 degrees for 20 minutes. Top with mozzarella cheese and your favorite pizza toppings, then bake for another 5-10 minutes.
Chicken and gnocchi with fall vegetables
This light and delicious meal takes advantage of some of the great fresh vegetables available in the fall. Stop at a farmer's market on your way home and throw together a healthy meal in less than 30 minutes.
Brown one-and-a-half-pounds of cubed chicken in a large skillet. Add a sliced summer squash and zucchini and cook until vegetables are tender. Add a large can of diced tomatoes and a package of gnocchi, and simmer for about 5 minutes, or until the liquid begins to bubble. Top with parmesan cheese.
| | |
| --- | --- |
| | Plan your menu a week ahead. It'll save trips to the store and time spent staring into your pantry. |
Spicy coke roast
There's nothing better than coming home and knowing dinner's already taken care of, so here's another family friendly slow-cooker recipe that will only take you minutes to put together in the morning.
Place a 3-4 pound beef roast in your slow cooker. In a medium bowl, mix one can of Coca-Cola with a packet of onion soup mix and a half of a bottle of chili sauce. Pour the mixture over the roast and cook it on low for 8-10 hours, or until the roast falls apart when you poke it with a fork. Serve chunks of this moist meat on top of mashed potatoes and drizzle with the delicious sauce.
Macaroni casserole
This casserole comes together in about 15 minutes and is simple enough to please even the pickiest eaters. For nights when you know you'll be really rushed, make it up to 24 hours ahead of time, skipping the final step, and store it in the fridge. Heat it in the microwave whenever you're ready to eat.
Brown one pound of ground beef in a medium pan and drain. At the same time, boil 16 ounces of elbow macaroni, stopping when it's slightly undercooked. Mix the hamburger and macaroni into a 2-quart casserole dish and add two cans of vegetarian vegetable soup and two cans of tomato sauce. Season with salt and pepper. Place the casserole dish in the microwave and cook on high for 5-8 minutes, or until the dish is heated through.
More easy dinner tips
Easy dinner ideas for busy families
Easy family meals: Save time and money on dinner
Fast dinner fixes for busy moms