Fun finger-food meals for back to school
Make delicious back-to-school food with these finger-food meal ideas that are perfect for little hands! Your kids will love these cute and easy-to-eat meals, and you won't have to ask them to clean their plate!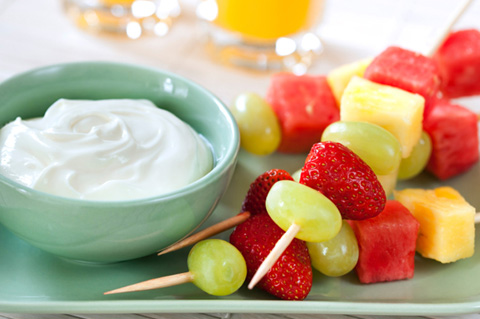 Julienned veggies
Veggies are much more fun when shaped like French fries, so use a julienne cutter or knife to slice veggies lengthwise for an easy-to-eat shape! Some of our favorites? Sweet potatoes! Bake sliced sweet potatoes at 400 degrees for 25 minutes, turning over at the halfway mark, and sprinkle with cinnamon or sea salt. Serve with ketchup. Or try julienned zucchini served with low-fat ranch dip or hummus.
Don't forget about veggies that are already ready for small hands, such as peas and baby carrots. Stock up on the frozen variety so you always have some ready during the busy back-to-school season.

Fruit skewers
Make fruit fun and easy-to-eat by sliding diced or cubed fruit onto small kebab sticks. Try serving with low-fat yogurt or honey for dipping! Bananas, grapes and strawberries are all easy to slide onto skewers. Let your kids make their own to get them involved in the kitchen!
Fun fondue ideas
Serve up a fondue dinner with cheesy bread bites and pepperoni with pizza sauce or diced hot dogs with cheese dip. Diced or cubed chicken with a variety of healthy dips keeps kids and mom happy! Dips are always a great way to add in extra veggies, too. Try adding pureed spinach to Greek yogurt for a quick and healthy dip for chicken.
Keep the fun dessert theme going by letting kids dip sliced fruit into chocolate sauce or low-fat yogurt. Try diced pound cake or small cookies from 100-calorie packs for a special occasion!
Mighty minis
Kids love anything mini, and bite-sized portions are perfect for their little hands. Serve up mini tacos or sliders instead of the full-sized portions. Try wrapping crescent rolls around hot dogs and slicing in quarters for mini pigs-in-a-blanket. Serve with dipping bowls of ketchup and mustard.
Don't forget about breakfast! Try making mini pancakes, scrambled eggs or bite-size sausage for easy finger-food ideas. Clean up is easier when kids can easily feed themselves with their little hands.
Little bites
Combining just a few ingredients can make for the perfect finger-food for kids. For example, top whole wheat crackers with low-fat cream cheese and a thin slice of ham. Or try topping celery with peanut butter and raisins for the traditional "ants on a log." Visit your grocery's freezer aisle for pastry cups that can be filled with a variety of yummy treats like diced chicken and cheese. Simply bake and enjoy! They're the perfect size for little hands.